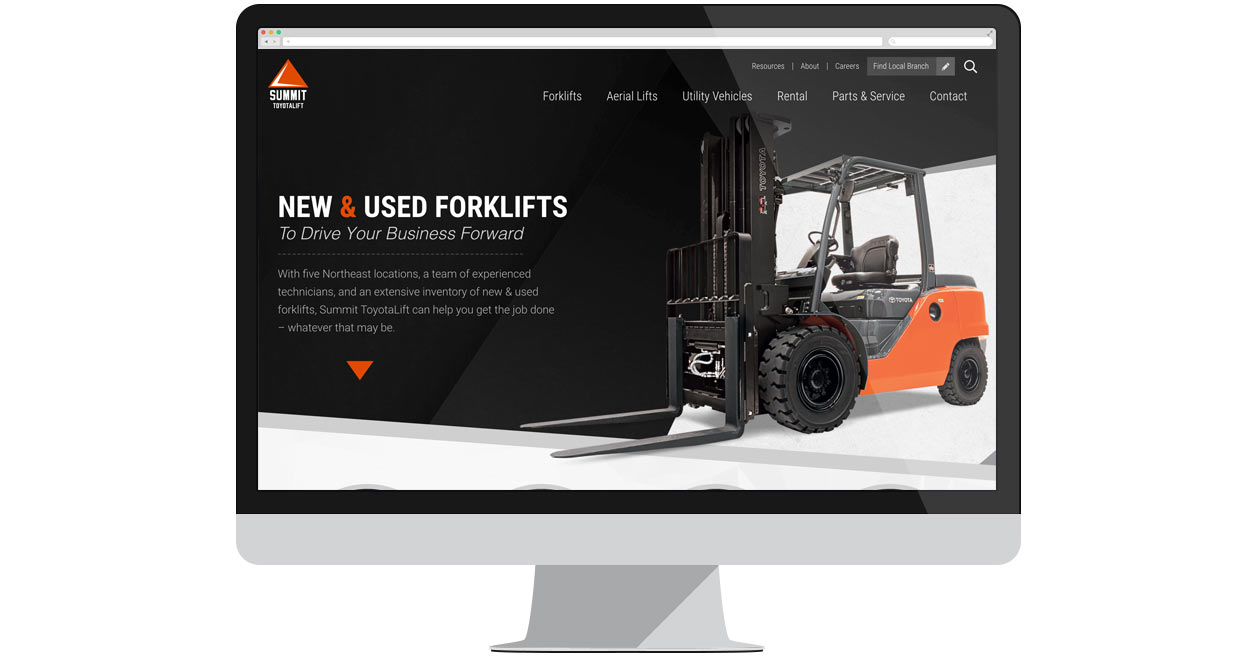 Summit ToyotaLift is a material handling equipment dealer with five locations in the Northeast, providing several brands of new, used, and rental forklifts, lift trucks, tractors, and utility vehicles.
Summit was looking for a new website with a more engaging interface, more product information, and an easier way for potential customers to find what they're looking for. In addition. Summit wanted a web development partner that could also handle its ongoing digital marketing.
Web Solutions built a new website in WordPress, with a full-width responsive design and all new product images and descriptions in easy to use categories.
"We wanted a modern site that would allow shoppers to do all the research that today's buyer expects to be able to find online," said Conor McKevitt, Vice President of Summit Handling Systems. "This requires in-depth product pages, which can be difficult to build in light of the complex machines that we sell. We also wanted to offer multiple entry points into our product pages, because the most common way to categorize forklifts forces customers to choose one type over another prematurely. Our new site allows shoppers to find a product when they know what they're looking for as well as when they don't know what they're looking for."
The new website also includes a new Find a Forklift tool to help users find the right forklift by entering criteria such as maximum load capacity, indoor or outdoor use, and power type (electric or internal combustion) rather than looking up a particular type of truck. The site then displays a list of available forklifts that meet all the requirements.
Another new feature is Find a Branch, which allows customers to input their ZIP code to display the closest Summit location. "It's a simple feature, but one we didn't previously have," said McKevitt.
In addition to designing and developing the new website, Web Solutions is providing ongoing digital marketing services including PPC advertising, SEO, website usability, email marketing, social media marketing, and reporting and analytics.
For more information, visit www.summithandling.com.
---