What Images

Can You Use on Your Website for Free?

Updated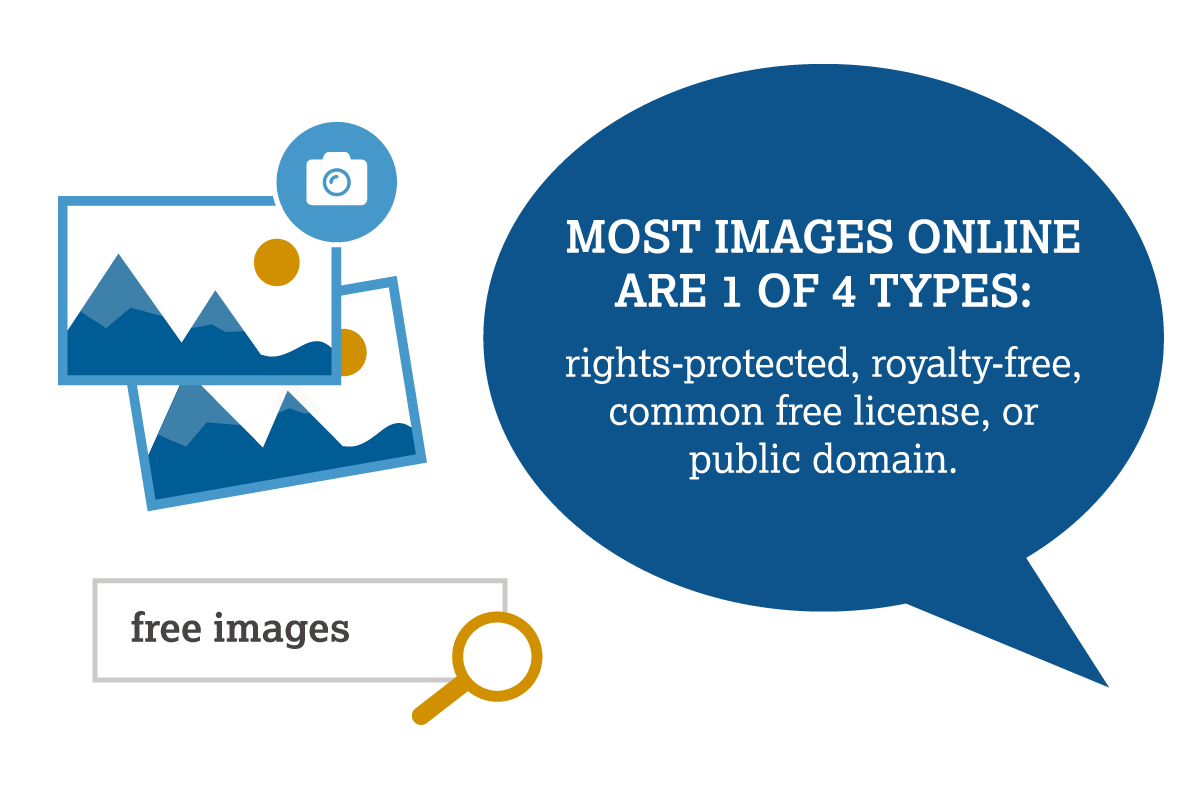 When you're looking for photographs to use on your website, you can't just download and use any photo you find online—each photo has its own usage rules, and unauthorized use can result in fines or even lawsuits. Here's what you need to know about rights, royalties, and rules, plus 11 sites for free photos.
Types of Photographs
Most images you'll see online are one of four types: rights-protected, royalty-free, common free license, or public domain.
Rights-Managed Photographs
Rights-managed or rights-protected photographs can be purchased under a copyright license for one-time use, or for a restricted amount of time or specific purpose. Many of the stock images sold by stock image sites like iStock, Shutterstock, and Getty Images are rights-managed. Because rights-managed photos are often more expensive, it's a good practice to review the purchase agreement to ensure that you are purchasing it for the correct usage.
Royalty-Free Images
With a royalty-free image, the user pays a one-time fee, which covers multiple usages with no additional charges. Be sure to check the licensing agreement for details about how the photo may be used, and any restrictions on usage types.
Common Free License Photographs
Images with a "common free license" are protected by copyright, but are free to use, share, repurpose, and adapt. Most common free license photographs use a Creative Commons license, which offers six different levels of free usage access.
Photos in the Public Domain
Photos that are in the public domain are not protected by copyright, have no limitations on use, and no fees for any type of usage. Images in the public domain include most photographs that are more than 100 years old, and any photo produced by a government or government agency.
Online Sources for Free Images
Buying photographs can be expensive and understanding photography licensing and rights can be complicated. Fortunately, there are millions of photos on the internet that are free to use.
What you need to know:
The photos on the sites listed below are free to use in any personal or commercial application.
In most cases the photos can be modified, though in some cases you may be required to indicate whether you made changes to the original.
You do not need to ask permission to use the photos.
Some sites require you to include a photo credit when you use a photo.
Trademarks are still in force for any trademarked item that appears in a photograph.
Usually, free photos cannot be used in offensive materials.
Please read the license agreement on each of the sites below for any additional usage details or restrictions.

While the availability of free images has never been better, the actions against illegal use are swift and the price can be steep, so be sure you know the origin of the images you add to your website.
---