Hello, I'm From Google...

and Other Common Small Business Scams to Watch Out For

Updated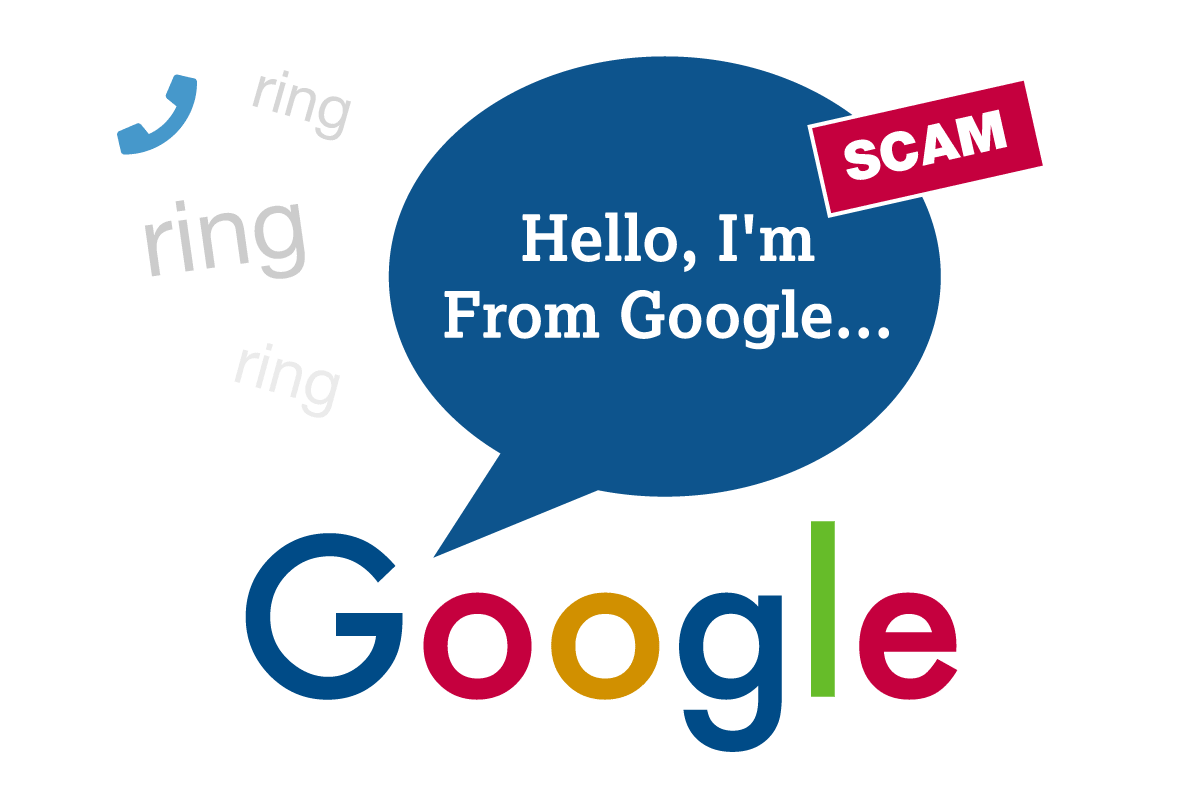 If you've received a phone call that begins with "Hi, I'm calling on behalf of Google…", you may have been the target of a scam.
Those calls are often from third-party companies trying to scam small businesses by offering to improve a business's Google Search rankings for a fee, charging money to provide services that Google actually offers for free, threatening to remove the company's listing from Google Search and Google Maps unless they pay for search optimization services, or telling them their Google listing is about to expire and offering to renew it.
In 2018, Google announced it was pursuing legal action against several scammers, and taking additional steps to protect small businesses from predatory practices, including:
Developing more techniques to identify Google accounts tied to scam efforts so those accounts can be removed or monitored
Implementing a new tool that makes it easier for business owners to report scams and policy violations
Providing educational resources about scams to local small business organizations, including the ability to request a Google speaker
With COVID fraud on the rise, this year Google created a Safety Center to help small businesses spot and avoid COVID-related scams such as fake donation requests, financial offers, or people posing as government sources or health organizations.
Tips for Avoiding Scams
Claim your listing. The first step you should take to avoid Google-related scams is to claim your Google My Business listing. Once you claim your listing, you control it, and no one can remove it or make changes to it without your knowledge or approval, so you don't have to worry about those types of threats.
Educate yourself. Google has compiled a list of common scams that bad actors will employ to use the Google brand to defraud you or your business, including scams involving tech support, job offers, fake invoices, tax payments, account recovery, and lottery winnings. Take the time to review the descriptions of these common scams so you'll recognize them if they happen to you.
Verify calls from "Google." Google does call business owners to verify listings, but they usually just ask a few questions—they won't try to sell you anything or ask for payment. If someone calls you saying they are from Google (according to Google, scammers often use language like "Google specialist" or "calling about Google" or "calling on behalf of Google"), ask them to send you an email to verify their identity. Anyone employed by Google will be able to send you an email from an @google.com email account.
Don't fall for pay-for-search-rank offers. If someone says they can improve your search ranking on Google for a fee, it's a scam. No one can guarantee a top search position with a simple payment. The entire field of digital marketing is dedicated to improving search rank using a comprehensive strategy and a variety of sophisticated tactics. If it were as simple as paying a fee, everyone would be doing it.
Get off the phone quickly. If you get a robocall, Google recommends hanging up immediately. The voice may prompt you to press a button to speak to a live person or be taken off the call list—don't do it. If a live person calls, don't get into a conversation about what they're offering or why you don't want the service, because that will just give scammers more information about you and more opportunities to keep you on the line. Say "please put me on your do not call list," then hang up.
Take yourself off the list. You can minimize unwanted telemarketing calls by registering your phone number with the National Do Not Call Registry. If your phone number is on this list and you have asked a telemarketer not to call you, it is illegal for them to call you again, unless they're a nonprofit.
File a report. If you receive an unwanted call you think may be a scam, notify Google, report the call to the FTC, and file a complaint with the FCC.
Other Internet-Related Scams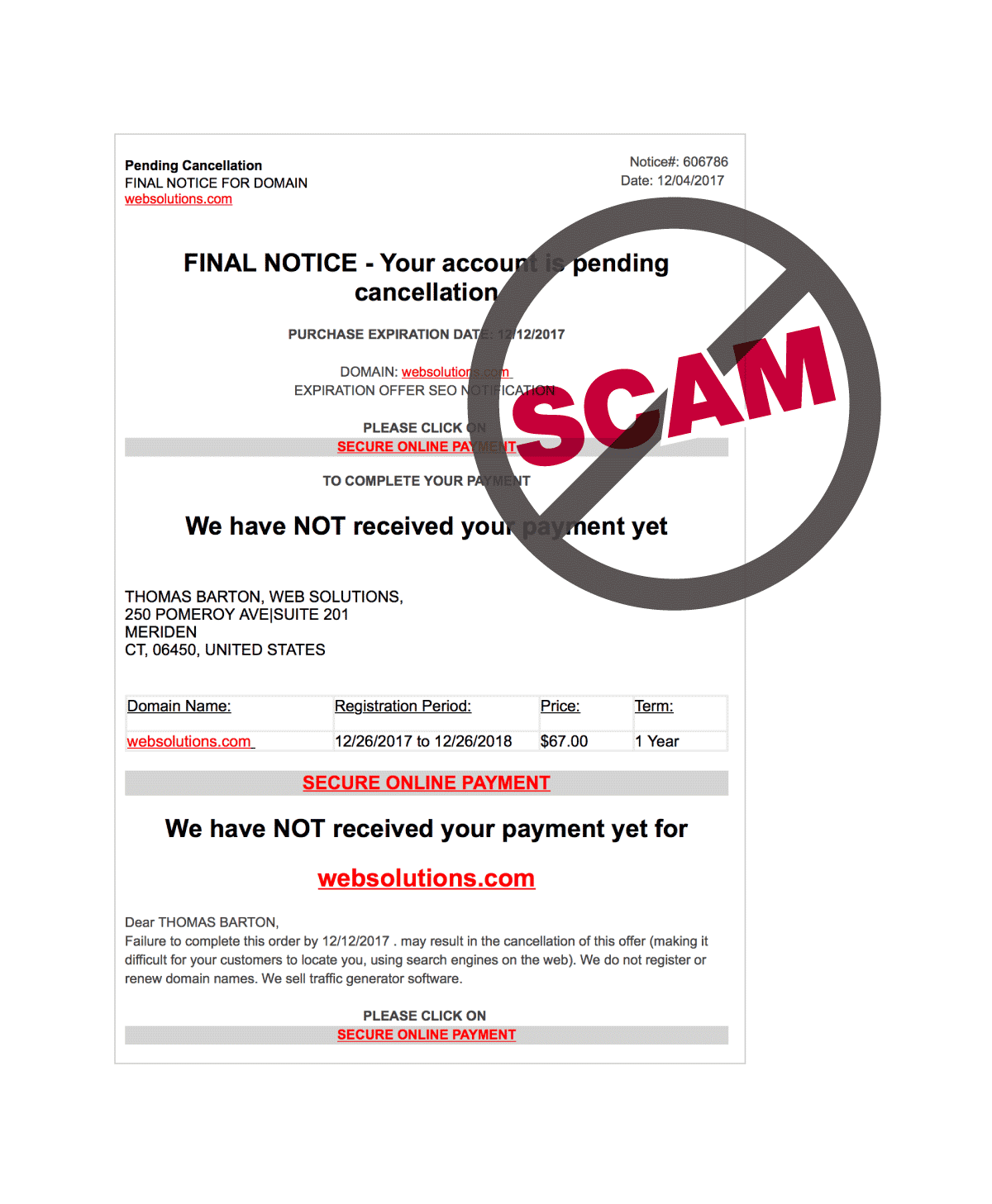 The Domain Renewal Scam
There are several variations of this one. You might receive a letter or an email saying that your website domain is expiring, but going through the "renewal" instructions actually transfers your domain from its existing registrar to another company.
Alternatively, you could receive a communication saying that another company is trying to register a domain name similar to yours, and giving you the "right of first refusal" to purchase the alternate domain yourself to protect your trademark.
In yet another version, someone will contact a company offering to buy an available domain on their behalf.
Directory Solicitations
This one goes back to the days when the Yellow Pages was the main way of advertising your business. In the updated scam, you receive something that looks like an invoice, with a payment amount for a business listing in some sort of directory, which could be much smaller than standard online directories like YellowPages.com, or even nonexistent.
---
The best way to avoid being the victim of a scam is to be informed, cautious, and skeptical. If you receive any communication that seems suspicious, don't make any payments or give out any information—notify the appropriate authorities and your digital marketing company.
---