How to Do a
Content Audit

… and Why You Should

Updated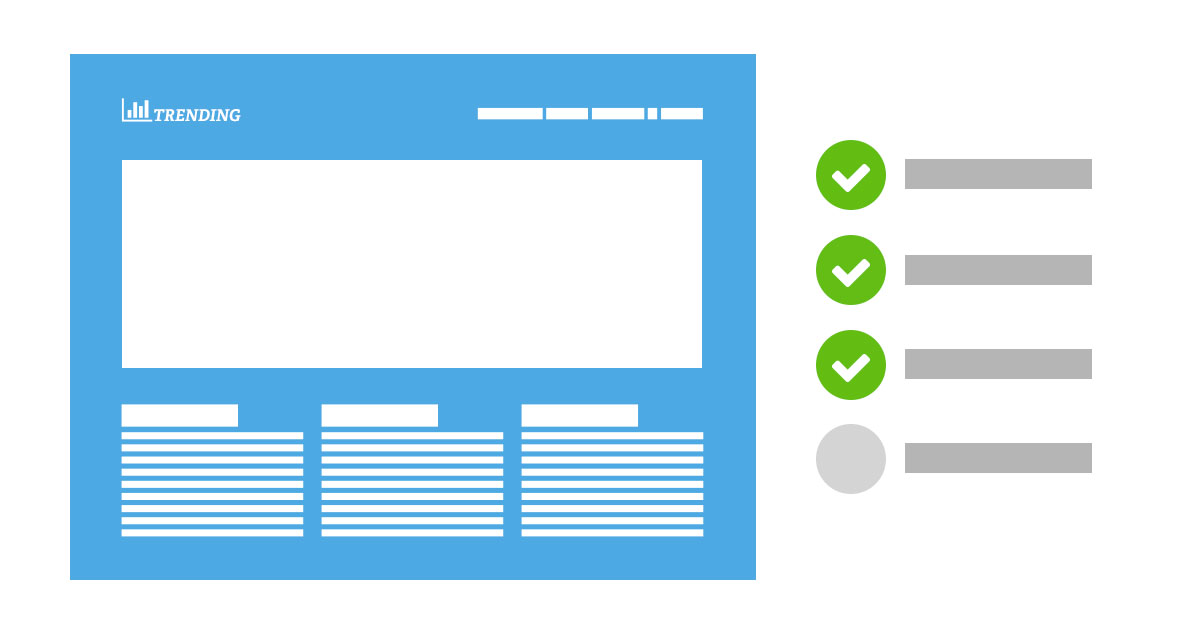 Is all the content on your website accurate and up-to-date? If you're not sure, or it's been more than a year since you took a good look at all the content on your website, it's time to do a thorough content audit.
Why Do a Content Audit?
One of the most important ways to improve your search rankings and provide value to your customers is to continually add new content to your site. Unfortunately, that new content gets old fast, and having content on your site that hasn't been updated in years can be detrimental not only to your search rankings, but to your brand image.
Doing regular content audits—which essentially consist of taking an in-depth inventory of your existing website pages, media, and resources and performing a qualitative evaluation of each piece—ensures that your content is helping your brand rather than hurting it.
If you are launching a new website or updating your brand or marketing message, a content audit lets you weed out content that does not meet your standards for quality and relevance and gives you a clear idea of the content gaps that need to be filled.
Even if you aren't planning a major website update, it's a good idea to do a content audit every year, to make sure your content is still relevant and well-optimized for search, and is successfully generating website traffic, creating leads, and helping you engage with your customers.
How to Do A Content Audit
When you're ready to do a content audit, start by creating a spreadsheet with headings for everything you want to record and measure, for example:
Page URL
Navigation title (e.g., About | History)
Content type (webpage, blog post, event, video, infographic, etc.)
Date last updated
Author/owner
Google Analytics statistics (traffic, bounce rate, popularity, conversions, etc.)
Keywords and metadata
Inbound and outbound links
Target audience/buyer journey stage
Social shares
Action to be taken (delete, update, consolidate, keep as-is, etc.)
Systematically go through your website and populate the spreadsheet with all of your pages. You can easily automate this process by using a crawl tool such as Screaming Frog or use your website's sitemap to easily find all pages.
Grading Your Content
Once you have this spreadsheet, evaluate each piece of content individually. Ask yourself these questions:
Is this page still important and relevant?
Is it up to date and accurate?
Is the content visually engaging and professional-looking?
Is it logically organized and easily scanned by readers?
Does it have a consistent voice in line with your brand identity?
Does it have calls to action and links to related content?
Are SEO elements in place? Does it have descriptive, well-written titles, metadata, headings and image tags that are optimized for search? Does it contain keywords and key phrases used in context?
Is it performing well? Does Google Analytics show that people are visiting the page and staying to read the content?
After you've covered the basics, take your evaluation to the next level by looking at the quality and purpose of each piece of content.
Is it essential? Does it tell your customers something they really need or want to know?
Is it strategic? Will it help you reach your business goals?
Is it balanced? Does it serve the needs of both your customers and your business?
Is it targeted? Have you identified the persona this piece of content is for?
It's sometimes helpful to create a number scale for each of these items—rate each piece of content in each of these four categories, and average for an overall score. Once you've scored every page of content, you'll not only have a better idea which pages need to be eliminated, which need to be updated, and which need to be created, you'll be better equipped to create quality content going forward.
---