How to Use Meta Tags

to Improve SEO and User Experience

posted on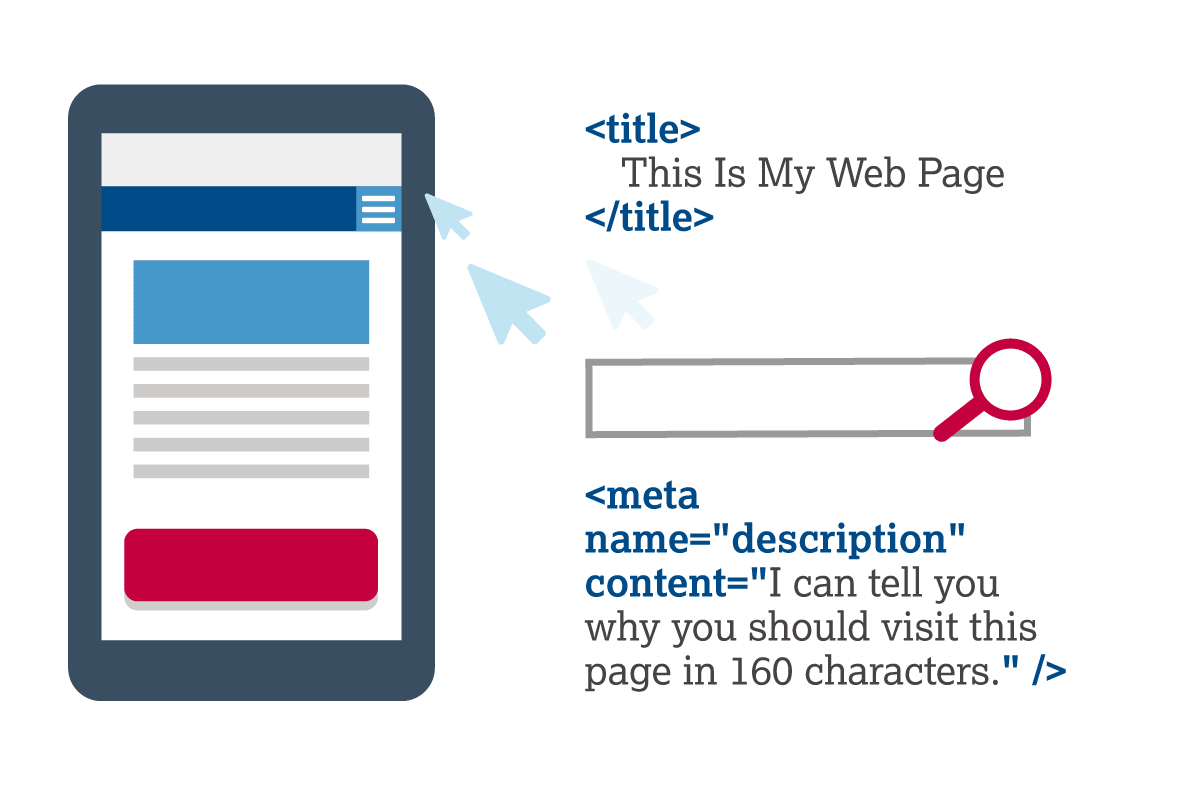 Your know what your website is about, but how do you quickly and accurately communicate that information to search engines and internet users? Reading the entire page should answer that question, but there's a quicker way to get the information across: meta tags.
Meta tags are pieces of code embedded on your website that tell search engines and potential site visitors what the page is about.
There are several types of meta tags related to everything from the language of the page to indexing instructions for web crawlers.
Every page of your website has the ability to contain many types of metadata, but the most important types of meta tags are meta titles and meta descriptions.
Why Are Meta Titles and Meta Descriptions Important?
The meta title and meta description have the important job of telling both search engines and humans what the page is about, so they are extremely important for both SEO and user experience.
For SEO, a clear and accurate meta title and description help Google understand the content of the page, so it can more accurately provide the page as a result for related searches.
For users, the meta title and description that appear in search results and in social media links tell the searcher what they will find if they click through to your site, and can determine whether a user visits your site or goes elsewhere.
The meta title also appears in the browser tab when a visitor is on your web page, which improves user experience by letting them know exactly where they are on your site.
How Do I Add Meta Title and Descriptions to Web Pages?
Meta titles and descriptions can be inserted in the HTML code of your site, or, if your site is built in a content management system (CMS) such as WordPress or Web Solutions Content Management System, the CMS provides a way to enter the meta title and description in a text field associated with each page.
You can also add an SEO plug in, like Yoast, to add meta titles and descriptions to your web pages.
How to Write a Great Meta Title
Your meta title should be clear and descriptive, and should include all the information a user or search engine would need in order to understand what is on the page.
While it's important to include keywords in the meta title, make sure they're used naturally and don't make the title confusing or unclear.
The title should start with the main topic and/or keyword for the page, possibly followed by a secondary topic or keyword and the brand name or company, all separated by a – or | character.
For example, the meta title of the page you are on is:
Writing Great Meta Titles & Descriptions | Web Solutions Blog
The meta title should be 50-60 characters, including spaces. Where the text is cut off depends on the letters and spaces used. To be sure your meta title appears in its entirely, enter it into SEOmofo's Google SERP Snippet Optimization Tool.
How to Write a Great Meta Description
While the meta title is a factual representation of the content of a web page, the meta description is more like an advertisement—not only should it elaborate on the content of the page, it should be written in an engaging way that makes users want to click the link and visit the page to see more.
For anyone who gets to a site through search or a social share rather than by directly entering the URL in their web browser, the meta description acts as the page's first impression. In effect, the meta description allows you to start providing a great user experience before the user even gets to your website.
Meta description checklist:
Don't duplicate. Every page on your website should have a unique meta description—using the same generic meta description on multiple pages will not only hurt your search ranking for those pages, it wastes your chance to bring visitors to the page.
Be accurate. Make sure the meta description truly represents the content of the page. If your meta description promises content that the page doesn't deliver, Google will figure it out, and so will your users—that means loss of website traffic and a drop in search rankings.
Write in natural language. While your meta title can be a short list of terms, your meta description should be in sentence form. Imagine someone has asked, "Why should I visit this page?" and use the meta description to provide an answer.
Use keywords (carefully). Using keywords in your meta description is the fastest way to signal to Google and searchers what your page is about, but as with the meta title, be sure to use keywords naturally, and in the context of explaining the content of the page.
Be compelling. This is your chance to get people to come to your site, so write a page description that is interesting, engaging, and speaks to the needs of your target audience. Someone seeing your meta description in a search result is looking for an answer—use the meta description to show you have the answers they need.
Check length. The meta title should be 135-160 characters, including spaces. To make sure your description doesn't get cut off, enter it into SEOmofo's Google SERP Snippet Optimization Tool to see how it will appear in search results.
Try different approaches to entice visitors. To make your meta description as engaging as possible, try evoking emotion, answering a question, giving the flavor of the content, including a special offer, using a call to action, or stating a specific value or benefit users will receive if they visit the site.
---