Facebook Profile vs Facebook Page:

10 Things You Need to Know

Updated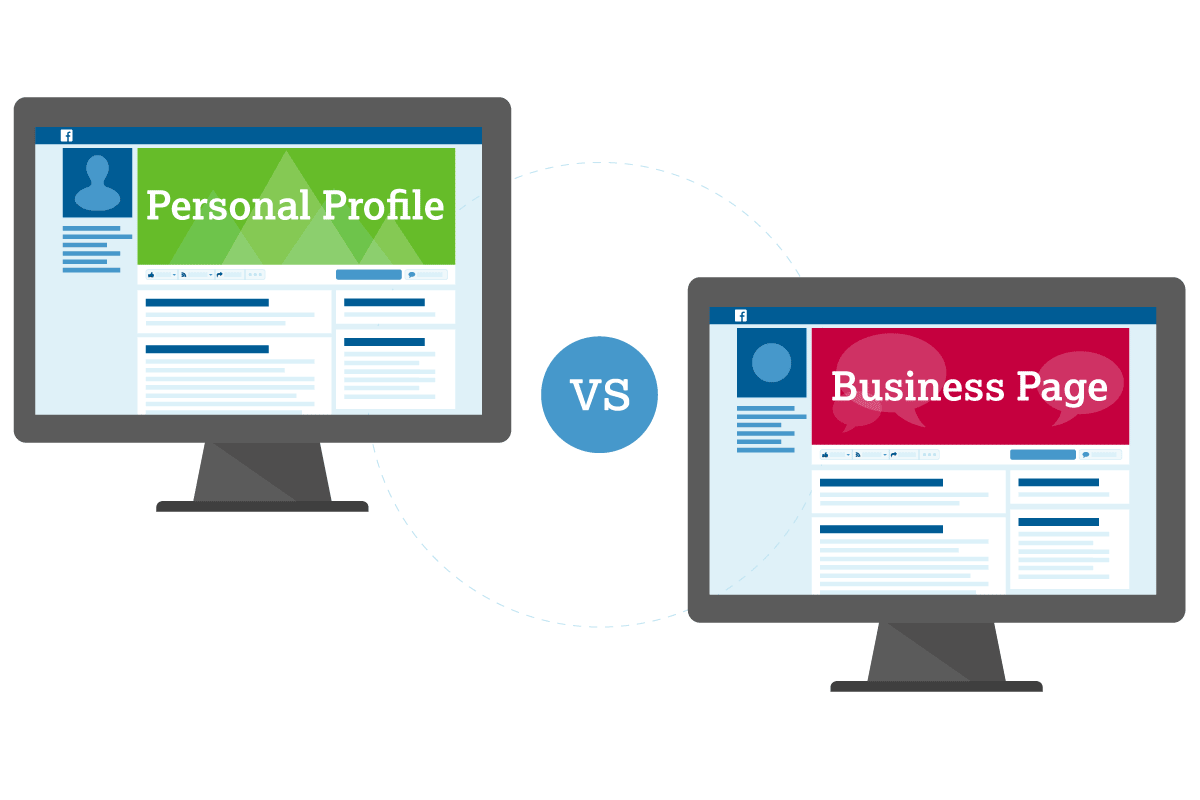 When you have both a Facebook profile for yourself and a Facebook page for your business, it's easy to get confused—and to confuse your customers in the process. Use these 10 tips to keep your Facebook identities straight.
Do not use your current personal Facebook profile or create a new personal profile for business purposes. It violates Facebook's policies to use a profile for commercial or promotional purposes, and doing so will not only annoy your friends, it could result in Facebook deleting your account. Don't have a business page yet? Follow Facebook's easy guide to setting up a business page. For tips and best practices for your business page, see our blog post 18 Dos and Don'ts for a Successful Facebook Business Page.
Facebook requires every business page to be linked to a personal Facebook profile, but all the information—posts, comments, photos, updates, etc.—are separate. The information on your personal profile will not appear on your business page and vice versa, unless you manually share them between pages. The general public will not be able to see what personal profile your Facebook business page is linked to.
While you can decide who sees your personal Facebook profile by using Facebook's privacy settings, your Facebook business page is public, so anyone can visit it. You can, however, use Facebook's audience restrictions feature to control the visibility of the posts on your page based on age, gender, location, and language. You can also control what visitors can post on your page, hide or delete individual comments, and turn on the profanity filter or block specific words from appearing.
You can only have one Facebook profile tied to your name, but you can have an unlimited number of business pages associated with the account.
Only one person can manage a Facebook personal profile, but multiple people can manage and contribute to a business page. Use the page roles feature to give people different levels of access (admin, editor, moderator, etc.).
You can list any of the business pages on which you are an admin on your personal profile. Click the edit button in the Pages box to add or delete pages.

Facebook will automatically default to having you like or comment as the business page you are an administrator of when interacting with posts for that business page.

You should always revert back to liking and commenting as yourself on any business page post, unless you are providing a response directly from the business.

Always be aware of which account you're using to avoid confusing your customers or looking silly. For example, if you want to like a post on your business page, do so from your personal account, otherwise it will look like your business is liking itself.

If you want to share a post from your business page to your Facebook profile, be sure to do so from your personal account, not while logged in as your business. When responding to a comment from a customer, make sure to reply from your business account.

The name of the page you're currently logged into will be displayed immediately to the right of the search bar at the top of the page. To see all the pages to which you have access, click the upside-down triangle at the top right of the page.
You cannot send a friend request to a business page. Facebook company pages do not have friends, they have likes. People who like a business page will then receive updates about the business in their news feed. You can invite people to like your page or even suggest your page to all your email contacts.
You can enable messaging on your Facebook page to interact personally with customers—answering questions, addressing complaints, or responding privately to comments. You can't initiate a private conversation from your business page, only reply to messages you've received. You can, however, invite people to message your business by sharing a Messenger Link or Messenger Code—unique links that initiate a messaging session when the recipient clicks the link or scans the code.
If you're using Facebook from a mobile device, you need to use a different approach for your personal profile and business page. You can use the Facebook app to do the usual Facebook things like share updates, photos, and videos, and create and edit posts and comments. If you want to post to your Facebook business page from a mobile device, you must download the Facebook Pages Manager app. which allows you to manage up to 50 Facebook pages from your smartphone or tablet. The

Meta Business Suite

can be downloaded from the iTunes App Store or the Google Play Store.
---