How to Use Facebook Groups

to Build a Virtual Community Around Your Brand

Updated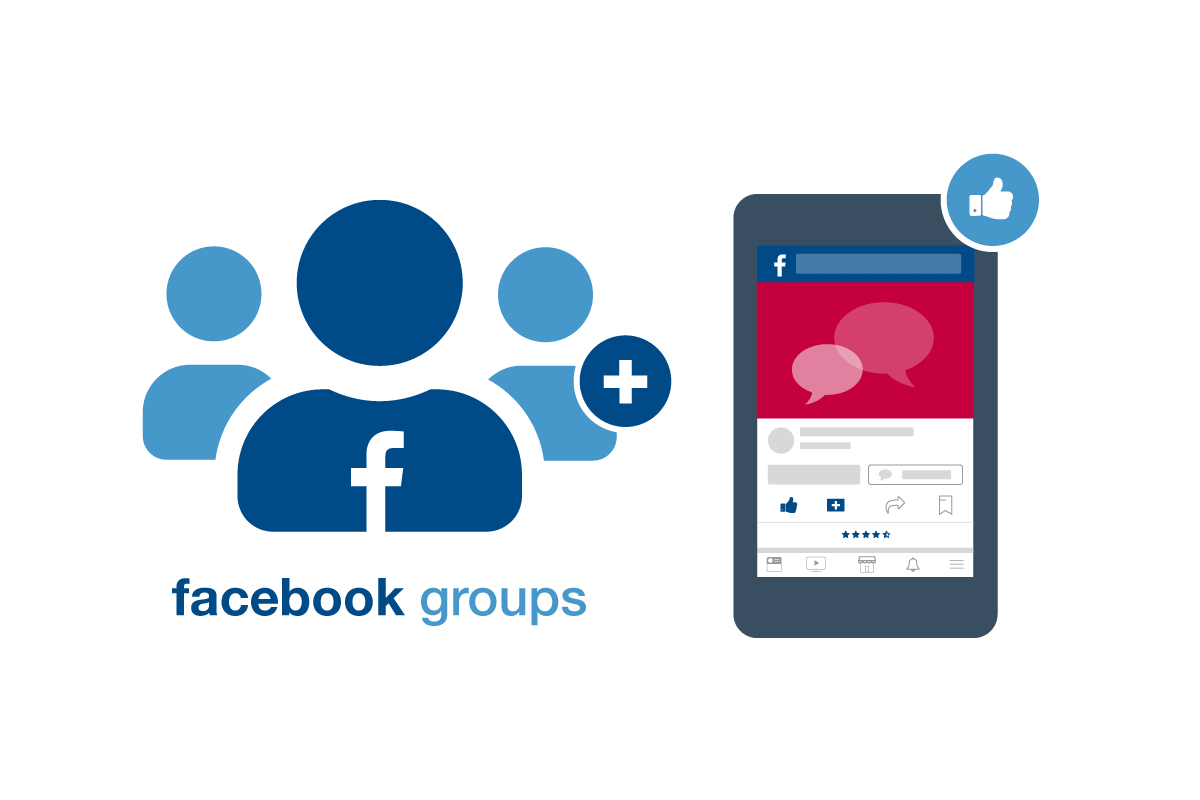 You probably already have a Facebook page for your business as a way to promote your brand and make connections with your target audience. Starting your own Facebook group is a way to deepen those connections and create a real community of people who share similar interests and know and love your brand.
Online groups have been popular for years, and the pandemic has only made them more so. Over 1.8 billion people use Facebook Groups every month, and a recent study found that 77% of people say the most important group they're part of is online rather than in person.
How Your Business Can Benefit From a Facebook Group
The difference between a Facebook page and a Facebook group is subtle but important. While a Facebook page acts like an online storefront or headquarters, a Facebook group gives your most valued customers a non-sales-oriented place to go to learn more about your brand and interact with other members of your target audience.
If you think of your brand as your home, people who see your Facebook page are like people who drive by your house—you may not know them very well (or at all), but you want them to have a positive impression of your home and to think it looks attractive and inviting.
A Facebook group is more like a backyard barbecue filled with people you care enough about to invite into your home. The people who join your group are the people you want to build a relationship with—you're interested in them and they're interested in you, and you both have something to gain from the connection.
Once you've established a Facebook group for your brand, you can use it to start building a strong community around your brand by nurturing relationships and providing value for your customers.
You can use your Facebook group to:
Make deeper connections with existing and potential customers
Communicate with brand ambassadors and influencers
Solicit feedback about specific products or services or your brand in general
Learn more about what matters to your customers
Get ideas for blog posts or other types of content
Promote upcoming events
Build brand loyalty
Test new ideas
Share exclusive deals
New Facebook Group Features
Facebook has unveiled several new features to make the groups feature more useful for businesses.
New Groups Tab: The new groups tab now shows each Facebook user (including Facebook page owners) a personalized feed of activity from all the groups of which they're a member and recommends groups based on their interests, which can make your group easier to find for members of your target audience. The tab also includes Watch Party, which lets multiple members of a group watch and comment on the same video at the same time.
Facebook Group Insights: Facebook now offers analytics for its groups as well as its pages. Facebook Group Insights tells you about your group members, including who the new members are, who is waiting to join, engagement details, post performance metrics based on comments or reactions, and your top 10 contributors.
Facebook Group Badges: Facebook group badges, available to groups with at least 50 members, let the group admin recognize and identify certain group members based on their status or contributions to the group. Badges are available for new members, founding members, group members who frequently start and contribute to meaningful conversations, and more.
New Facebook Group Types: This year Facebook announced it would add a new General group type and roll 13 older group types into that category. It also plans to add new Jobs and Health Support groups with customized features including letting the members of medical groups post without showing their name and giving Job groups members an easier way to apply to a job within Facebook.
Facebook Pixel in Groups: If your group has at least 250 members, you can now add a Facebook pixel to your group. Facebook ad pixels lets you track users' behavior after they click on one of your Facebook group posts, to see how they interact with your website and give you more information about how the content of your group page is affecting traffic and conversions on your website.
Group Post Formatting: Facebook plans to give group admins more options for formatting posts, including H1 and H2 headers, variable text sizes, bullets, and a block quotes.
Facebook Support for Group Admins: To encourage the use of groups, Facebook now offers an exclusive platform for group admins to report issues, ask questions, and get answers within 24 hours.
Tips for Using Facebook Groups
Choose the right name for your group. Don't just use your brand name as the name of your group, come up with a name that lets potential members know what the group is about, what kind of content they'll find if they join, and how they'll benefit from becoming a member.
Determine the right security level. Groups can be public, closed, or secret. Open groups can be seen and joined by anyone. Closed groups can be found in search, but while anyone can see the name of the group, only members can see the content. Anyone can ask to join a closed group, and membership is approved or denied by the admin. Secret groups do not appear in search, and membership is by invitation only.
Promote your group to get new members. Once your group is established, you need to get people to join. Write a blog post about the launch of the group, send an email to your subscriber list announcing the group and encouraging them to join, promote the group on your Facebook page and on other social media channels, and add a link to the group on your website and in your email signature.
Ask questions before accepting members. When someone asks to join your group, you can choose to ask up to three pending members questions about why they want to join your group, what they expect to get out of membership, and what they're interested in. Their answers, which are only visible to group admins and moderators, can be a valuable resource in learning more about your target audience.
Post group rules. Make sure all group members know the guidelines for posting and interacting within your group by creating Facebook group rules and letting new members know where they can find them. By default, group rules are displayed in the About section, but you can also create a short welcome with some guidelines as a post and pin it to the top of the group page so everyone sees it as soon as they enter the group.
Welcome new members to the group and ask them to introduce themselves. As with any in-person gathering, people feel more comfortable and are more likely to get involved in conversations when they are introduced to the group. Facebook allows you to create a standard welcome post, and you can also welcome them individually and encourage other members to do the same.
Provide real value. Time is valuable, so if you want your group members to spend time interacting with your brand, you need to make it worth their while. Post frequently, stay engaged with your group members, and offer exclusive discounts, content, or information they can't get anywhere else.
Start discussions, but don't dominate them. Unlike with a Facebook page, the members of a Facebook group should be largely responsible for dictating tone and content, so the brand shouldn't always be taking the lead. Don't feel obligated to chime in to every conversation—you can learn a lot by just listening.
Be responsive. While you don't have to participate in every discussion, you should be immediately available if someone asks a question or needs help.
Monitor posts and get rid of spam. Almost nothing will annoy your group members more than spammy posts that clog up the group and derail the real interactions that are supposed to be taking place. Facebook just added the ability for admins to contact members directly when their posts break the rules or qualify as spam.
---