11 Free Ways

to Use Your LinkedIn Company Page to Promote Your Business

posted on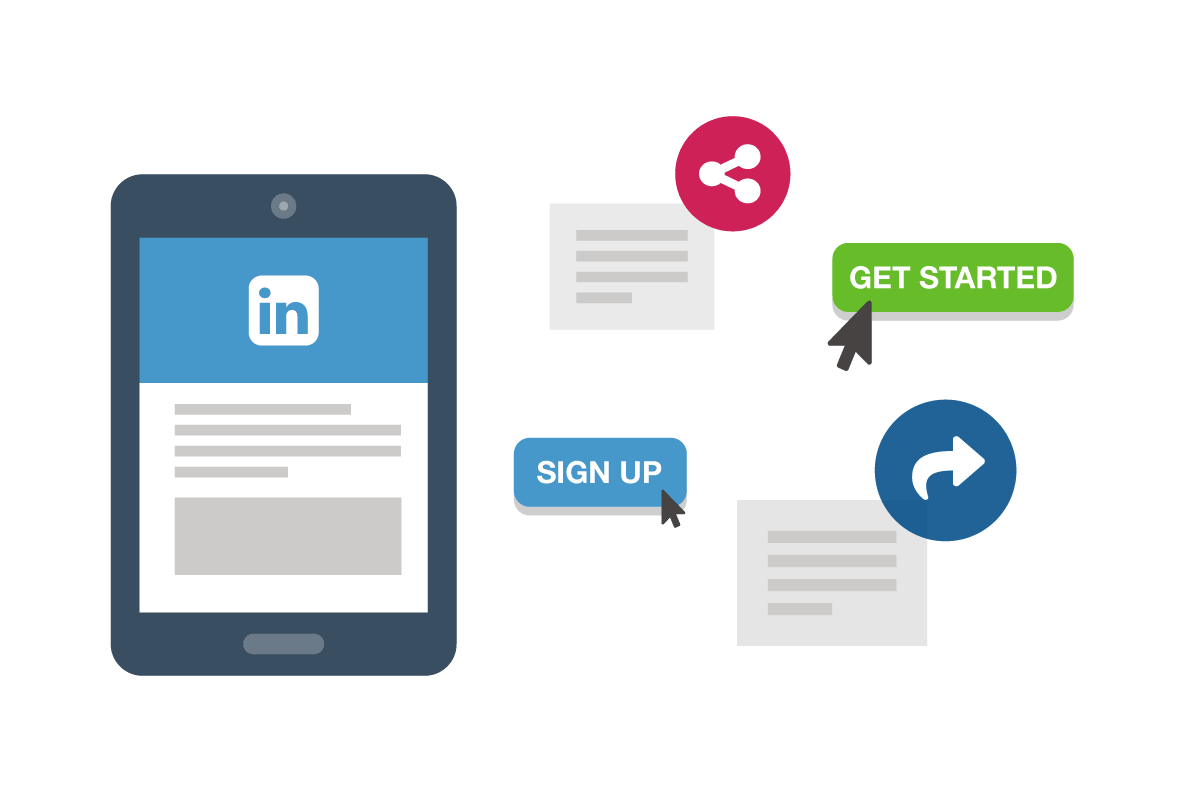 LinkedIn started as a career networking tool but has evolved into the most-used, most effective social media platform for B2B marketers.
Of LinkedIn's 260 million active monthly users, 40% are on the platform daily—that means your LinkedIn company page has a potential audience of 104 million LinkedIn users every day, many of them in decision-making positions.
The key is to convert that potential audience into followers, and turn those followers into customers. Here's how to do it.
Create a complete, up-to-date company page. Before you start working on improving engagement for your LinkedIn company page, make sure you have the basics covered—LinkedIn pages with complete information get 30% more views than those that are only partially filled out. Your page should include your logo, a quality profile image, a custom URL, accurate company details, and a keyword-rich company description. For more information, see our blog post 6 Must-Haves for Your LinkedIn Company Page.
Use LinkedIn's publishing tool to create content. LinkedIn includes a publishing platform that allows anyone designated as an administrator on your LinkedIn company page to create posts or "updates" directly within the LinkedIn content marketing platform. For maximum engagement, post updates at least once a week, and be sure to include visual elements like images or video and hashtags to identify the content of your posts and enable your audience to find them more easily.
Be a trustworthy source. According to a survey of B2B marketing and sales professionals, B2B buyers are becoming more selective about the type of content they consume during the process of making a purchase decision. Increasingly, key decision-makers are looking for high quality content from trustworthy sources, and according to the Digital Trust Report 2018, LinkedIn is by far the most-trusted social media platform. Set your company apart from the crowd by creating thoughtful content that provides value to your readers and is backed by solid data and research.
Share relevant industry articles. Creating original content can be time consuming, but you can also use the LinkedIn publishing platform to show you have your finger on the pulse of your industry by sharing news articles or blog posts your audience might find interesting or helpful. Be sure to write a short intro to explain where the article came from, provide context for why you're posting it, and give your quick take on the topic. Looking for inspiration? Click on the Content Suggestions tab to discover trending topics and articles to share with your followers.
Republish select content from your company blog. If you have a blog post on your company website you think is a good fit for LinkedIn, post a portion of it as an update on your company page. Not only will you expose your website content to a wider audience, you'll increase your site traffic. To avoid being penalized by Google for duplicate content, wait a few weeks after the original publication date before adding the content to LinkedIn, and tweak the title and content so it's slightly different from the original version. Always include a line that says where the blog post originally appeared, and a "Keep Reading" link to take visitors back to your site.
Understand your audience. Your LinkedIn audience is probably very different from your audience on other social media channels, so you want to make sure you tailor your content and tone to match their interests. Use LinkedIn's detailed analytics to learn more about your visitors and followers, including demographics, how they interact with your company page, and what kind of content they are most likely to find interesting. The more information you have about your followers, the better your ability to adjust your strategy to improve engagement.
Use targeted updates. If your LinkedIn company page has more than 300 followers, you can create content tailored for specific audiences. After you create an update, use the targeted audience settings to select your chosen audience by a number of factors, including location, industry, job function, company size, and seniority level.
Enlist your employees as advocates. Employees have an average of 10 times more social connections than the companies they work for, so having your colleagues and employees connect with your company page is an excellent way to tap into a larger network and grow your audience.
Take advantage of LinkedIn Groups. One of the best ways to network with other professionals and key players in your industry is by joining LinkedIn Groups. You can create your own group or find groups to join using LinkedIn's search or suggestions features. Once you're a member of a group, you can join conversations, share videos and images, and send messages to other members.
Add calls to action. Remember, although you want your followers to consume the content you add to LinkedIn, the actual goal is to get them to click through to your website so you can capture a lead or start the conversion process. Every article you post should ask readers to perform an action like visit your website, subscribe to a newsletter, watch a video, or read another article.
Create Showcase Pages. If you want to highlight separate divisions of your business or connect with different target audiences, you can create up to 10 Showcase Pages for your company page. Each page can focus on a specific subset of your company, like different brands, charity efforts, ongoing events, promotional campaigns, or product types. Each Showcase Page has its own followers, updates, and information, which enables you to more effectively tailor the page to the specific audience you want to reach.
---