13 Product Page Enhancements

That Will Make Online Shoppers Click "Buy"

posted on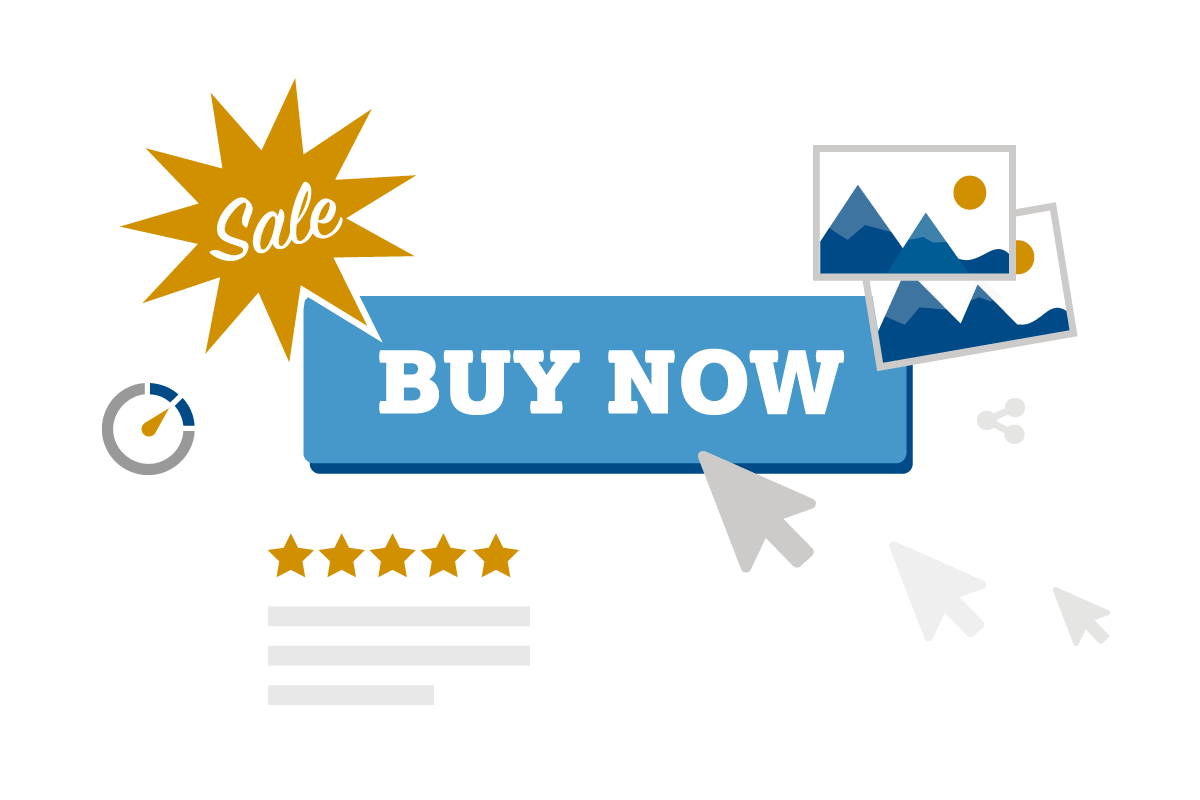 For an ecommerce website, the product page is crucial. It's the very bottom of the sales funnel, where potential customers decide whether to buy or pass. Making sure your ecommerce product pages are doing everything right is the best way to minimize abandoned transactions and ensure you get the most sales possible. Follow these tips for high-converting product pages.
1. Improve site speed.
First things first. If someone is shopping on your website and the pages take too long to load, they may never even make it to your product page. According to one study, 47% of online shoppers expect web pages to load in 2 seconds or less and 79% of people who are dissatisfied with an ecommerce website's performance are unlikely to buy from the same site again. Make sure your website is optimized for speed so all the pages on your site load as quickly as possible.
2. Write compelling, unique product descriptions.
Online buyers don't usually want to read an exhaustive product description and a long list of features, but they do want to know why they should consider buying this particular product. The trick is to create product descriptions that convey value, major selling points, and excitement in as few words as possible. Write creative, easy to read descriptions that paint a picture or tell a story. Focus not on features, but on benefits; not what the product does, but how it will make a buyer's life better.
3. Use multiple high-quality product images.
People respond to images, and that is especially true with online shopping. For each product, include a large, crisp, high-resolution image, plus at least 2 secondary images—in a survey of online shoppers, 73% said they need to see at least 3 images of the product. Give shoppers the ability to zoom in and see the product from different angles, either with a 360-degree view or with multiple photos. If possible, include lifestyle shots that show the product in use to enable your would-be buyers to see how it might fit into their own lives. If showing a product in motion is relevant, include a short video.
4. Avoid information overload.
Your product page should be uncluttered and pleasant to look at, with plenty of white space. Don't overload the page with every single detail a shopper might need to know about the product. If you need to give shoppers a lot of technical details about a product, use collapsible sections, tabs, pop-ups, or links to sub pages to give shoppers access to information like dimensions, shipping and return information, materials, product care and usage, size charts, and warranties.
5. Include product reviews.
Nothing creates trust in a brand or product like reviews. Most online shoppers read reviews before making a purchase, and 35% of online shoppers say when comparing similar products online, having better reviews is the top reason they would purchase the higher-priced option. Most online shoppers look at reviews on Google or Amazon, but if you include reviews on your actual product page you stand a much better chance of keeping shoppers on your site rather than forcing them to look up product reviews elsewhere.
6. Highlight the security of your site.
If shoppers are going to be giving you their payment information, they want to know your site will keep it safe. Make sure your site has the added security offered by an SSL certificate, indicated by the https:// that appears before your website URL, and display credit card logos and trust badges like those from McAfee, VeriSign, and Truste on your site to tell people it's safe to enter their payment details.
7. Allow social sharing.
People love to share, and that includes online shopping. Each product page should have sharing buttons so shoppers can post an image and link to the product on their social channels, or email or text it to a friend or family member.
8. Create a sense of urgency.
One of the best ways to get people to take the plunge on a purchase is to create a fear of missing out. Add visual cues to your product page to create a sense of urgency—the number of products left, the number of hours left in a sale, the number of other people who are looking at the same product or have it in their shopping cart, even a small clock or hourglass to show that time is scarce.
9. Have a clear call to action.
Don't make shoppers look for a way to make a purchase. Create a clear call to action button on each product page, using a contrasting color to make it stand out from the rest of the page and attract shoppers' attention. Use clear language like Buy Now or Add to Cart.
10. Offer an incentive to purchase.
If someone hasn't quite decided whether to purchase your product, is there something you can offer to sweeten the deal? Consider offering incentives (especially to first-time customers) such as a free gift, a sample, free shipping on the first order or a discount for signing up to receive emails from you. For shoppers that start the purchase but don't complete it, you can also use a cart abandonment email that sends an email to the shopper reminding them to make the purchase and offering a special incentive.
11. Make checkout easy.
A complicated checkout process requiring multiple clicks is one of the fastest ways to drive shoppers away. Test out your site's checkout procedure as if you were a customer. Make note of how long it takes you to get through the process, as well as any friction or frustration points. Test on both a desktop and a mobile device to ensure you are offering your mobile shoppers a good user experience as well.
12. Enable guest checkout.
Requiring customers to create an account in order to make a purchase might seem like a good idea because you want to get their information in your system, but it's actually one of the top reasons people will abandon a site. According to one survey, 35% of online transactions are abandoned because the user was forced to create an account. Not only does it take more time, it can be off-putting for a new customer who isn't sure they will be buying from you again in the future. While you should always give customers the choice of checking out as a guest, once the purchase is complete you can ask them if they would like to create an account.
13. Give shoppers a way to reach you.
With ecommerce, you can't walk up to a browsing customer and ask if there's anything you can help with, but that doesn't mean you can't provide personalized customer service. Include an FAQ section that covers details about ordering, shipping, returns, and any other other pertinent information, and provide multiple contact points (contact form, phone number, email, live chat, etc.) to give customers a way to reach you quickly with questions or issues. You can also include an interactive question feature, which lets customers ask a question and receive an emailed answer, then posts the question and answer on the site to help future shoppers.
---