Everything You Need to Know

About Welcome Emails

posted on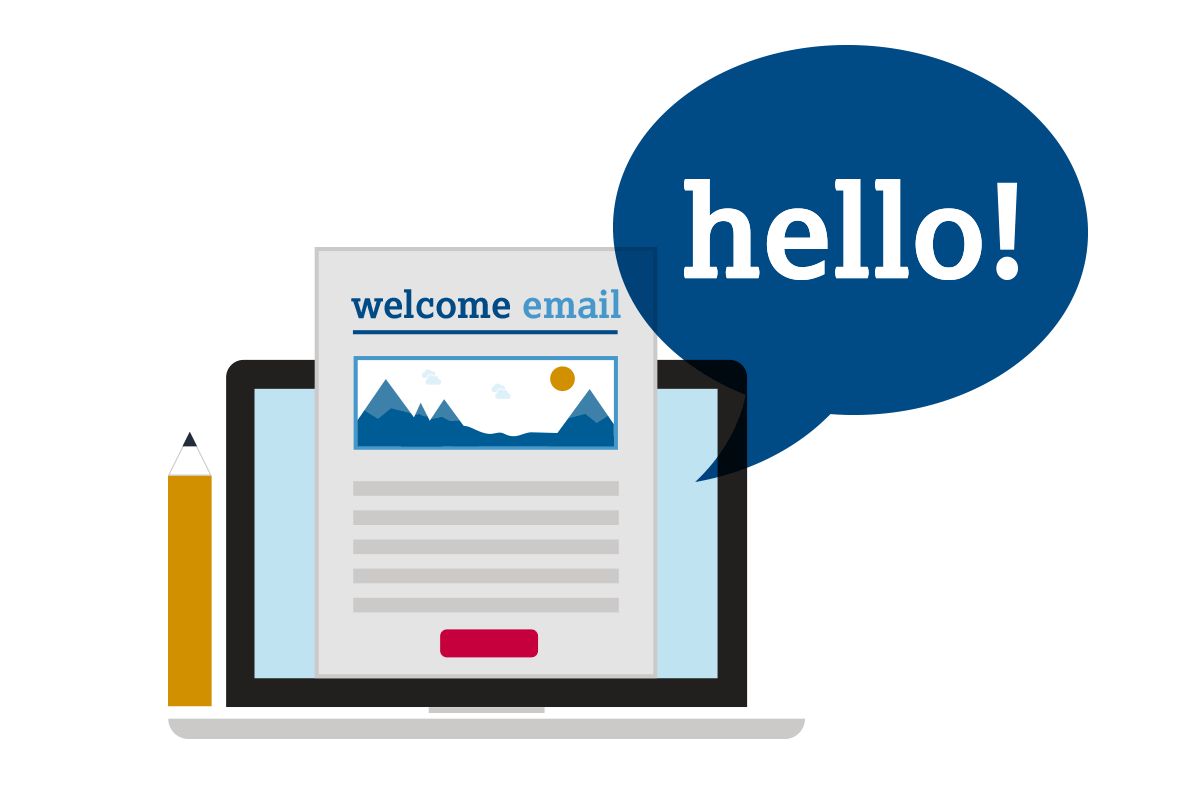 How do you welcome your new customers? Fifty years ago a handshake was the best way to greet a new customer and thank them for doing business with you—in the digital age, the welcome email has become the new standard.
Welcome emails are an extremely effective way of introducing yourself to a new customer. According to the latest Email Marketing Benchmarks Report, 83% of people who receive a welcome email open it and 23% click a link, compared to average open rates of 21% and click-through rates of 3% for other types of email.
A well-executed welcome email can:
Form the foundation for strong brand loyalty
Improve customer engagement and retention
Raise conversion rates
Boost sales
Increase lifetime customer value
Like any first impression, you want your welcome email to present your company in the best light and set a positive tone for your future relationship. Here's what you need to know to create emails that get you and your new customer off to a great start.
What is a welcome email?
A welcome email is an initial communication that establishes a relationship with a new contact.
What is the purpose of a welcome email?
A welcome email allows you to introduce yourself to a new customer and get your business relationship off on the right foot by making them feel valued and appreciated.
When should I send a welcome email?
You should send a welcome email to anyone who has just started a relationship with your company by performing a transaction, whether it's making a purchase, signing up for an email newsletter, or subscribing to your blog. Send the welcome email immediately after the signup when your brand is still fresh in their mind—real-time welcome emails get much higher open and click rates than those sent significantly after the initial transaction.
How can I be sure someone wants to receive a welcome email?
Follow the example of 79% of welcome emails and use double opt-in for email signups. With single opt-in, new users are automatically signed up for an email list when they submit an email, even if they didn't expressly ask to subscribe. Double opt-in adds a confirmation step to the signup process, which verifies both that the email address is correct, and that the person meant to sign up and probably wants to hear from you.
What should I say in the welcome email?
A welcome email should, obviously, start with some sort of sincere welcome message and an expression of appreciation for whatever action they took. You can also include a brief overview of who you are and describe the benefits your new customer will receive as a subscriber.
What else should I include in the welcome email?
A welcome email is a great place to give new customers a special offer or coupon code, important contact and product information, as well as some details on what they should expect to receive from you in the future. You can also use your welcome email to gather more information on your customer by asking them to create a profile or select from a list of preferences or interests.
How long should the welcome email be?
The purpose of a welcome email is to quickly greet your new customer and express your appreciation, so keep it short—fewer than 50 words.
Can I send more than one welcome email?
Yes! If you have more information to share than will comfortably fit in a single email, create an automated welcome series with valuable information like how to contact you with questions, where to find more information about your products and services, a list of links to your most popular blog posts, or product tutorials.
---