How Much

Does a New Website Cost in 2021?

Updated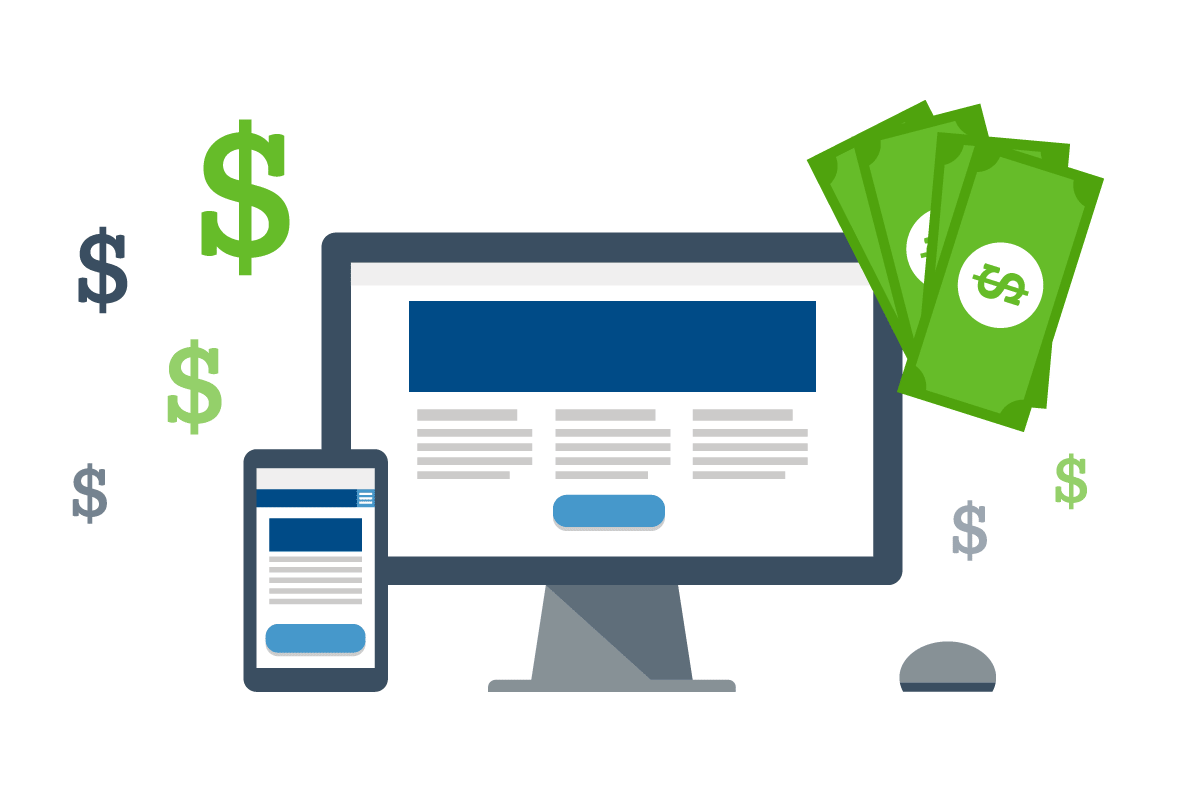 When a company wants a new website, the first question they often ask is, "how much will it cost?"
Many companies are looking for one definitive answer to this question, but that's as impossible as giving a single, clear-cut answer to: "How much does a house cost?"
As with most price-related questions, the answer is, "it depends." Realistically, the cost of building a new website can range from hundreds to hundreds of thousands of dollars.
The cost of a new website depends on several factors, including:
The size and complexity of the site
Whether you want to build it yourself or hire professional help
What level of customization your site will require
To help you answer the cost question, we've broken down the type of website a small to medium-sized company might require into four cost categories.
Websites That Cost Less Than $2,000
While it's possible to spend this little on a website, most sites at this level are built for an individual, or for a very small business that needs a static, catalog-style site with only a few pages.
For this level of website you can use a DIY website builder like Wix , Webstarts, Jimdo, or Weebly. All are marketed as free website builders that let you create a "professional" website using a simple drag-and-drop interface, but that's not the whole story.
The basic levels of these tools are indeed free, but in exchange for "giving" you a free website, most web builders will run ads on your site. Also, if you want things like your own domain name, extra storage, or more flexibility in design and functionality, you'll need to purchase a premium plan or pay for extra plugins or add-ons.
Before you decide on using a web builder to create your new website, think about how your needs may change in the future. If you want to promote your site with longer-term SEO efforts, most web builders allow basic SEO, like page meta titles and descriptions, but don't include sophisticated SEO optimization tools.
If you'll eventually need a larger, more complex site on a more sophisticated web development platform, you may have to start from scratch because not every web builder enables site owners to migrate the site onto another platform.
What to consider:
Are you comfortable creating a website on your own, including determining the design and writing all the content?
Do you have the time to look through hundreds of templates and figure out what features and functionality you need for your site?
Are you OK with design and functionality that is "close enough" to your vision for your website?
Will this website project the image you want for your company?
Do you mind that your website won't be totally unique, won't match your company brand, and may look like other websites that have used the same website builder?
Will not having a professionally designed website cost your business opportunities in terms of traffic, sales, and brand recognition?
The bottom line: If you need a basic, low-cost website that looks professional, have the time to put into building the site, and don't mind if the site uses standard templates and includes ads, a DIY website builder is a viable option.
Websites That Cost $2,000 to $7,500
If you're looking for a higher-level website than you can get with a free website builder and you want a professional to help you with design and development, you might want to hire a freelance web designer/web developer to build your site.
When hiring a freelancer, there are many things to consider. You'll want to ask about experience, skillset, availability, and what platforms they work on, plus how you will be billed (by the hour, by the task, by the project), and what happens if there is an overrun on time or budget.
It's also important to know exactly what you need, because web design and web development are two very different skillsets. A web designer is a creative who (hopefully) knows the rules of good design and UX and can create the visual aspects of your new site, like the layout, photos and typography, and the hierarchy and navigation that will deliver a good user experience.
To create an actual functioning website, you'll need a web developer who is well-versed in the programming languages (HTML, CSS, Javascript, etc.) needed to bring those static designs to life.
A freelancer who is primarily a web designer might be able to create a beautiful design, but only know enough coding to deliver fairly basic functionality, while a freelancer whose strength is programming will probably use design templates to build your site rather than create a design from scratch.
And chances are neither a web designer nor a web developer will be able to write or edit the content on your site, including writing engaging headlines and calls to action.
Be sure you know what your priorities are and what your freelancer is able to deliver.
What to consider:
Are you comfortable hiring a freelancer?
Who will own the site, including the domain, the design, and the content?
Will your project be a top priority for the freelancer, or will their availability depend on how busy they are with other projects? What happens if they take a full-time job?
Will you have access to the site once the project is complete, or will you need to continue to use the freelancer for any updates and changes?
Once the new website is up and running, will you be comfortable promoting the site and increasing awareness with ongoing SEO, social media, content marketing, digital marketing, and advertising, or will you need help with these things?
The bottom line: If you have a budget of less than $7,500 and want a professional to build your website, a freelancer can help. Just be sure you know what you need, and make sure the freelancer you hire can deliver it.
Websites That Cost $7,500 to $20,000
If you are looking for a more robust, complex website and want access to a wider and deeper pool of web design and development talent, your best bet is to partner with a marketing agency that specializes in web design.
When you work with a web design agency, you'll have access to experienced, professional web designers and web developers, and you'll get the benefit of additional guidance regarding web design strategy, best-practices, and the latest web technologies.
Most agencies will have other professionals on staff as well, including digital marketing specialists, copywriters, social media experts, branding strategists and others who can provide valuable input both during the design and development process and on an ongoing basis once the project is complete.
Working with an agency also gives you an added level of professionalism and accountability, since you'll be dealing with a company that depends on referrals from satisfied customers and likely has systems and policies in place to ensure the process runs smoothly and to address any potential problem or issues.
Many agencies work with multiple web development platforms, and can discuss the pros and cons of each, including whether to use an open-source content management system (CMS) or one that has been created internally by the agency itself.
A website in the $7,500-$20,000 range will probably use some sort of template and give you the option of installing standard modules for a blog, news, careers, events calendar, online support, FAQ, photo and video galleries, etc., but the agency will be able to add some customizations based on your company's specific requirements and preferences.
Most importantly, working with an agency will give you a true marketing partner that does much more than build a website. A good agency will start your relationship by learning about your company and your industry, getting to know your business challenges and goals, and identifying the ways in which your website can help you achieve them. Rather than someone who carries out your orders, you'll get an ally and advisor who can walk you through the entire process, helping and supporting you every step of the way.
What to consider:
Do you want a website that allows you more input and flexibility on design and functionality?
Are you looking for a website that strongly reflects your company's brand and image?
Do you feel more comfortable working with a professional web design agency rather than a freelancer?
Do you want access to a team of web design and marketing experts, both during your web project and beyond?
The bottom line: If you want a professional website built by a team of experts, a good web design agency should be able to deliver an attractive, functional site for less than $20,000.
Websites That Cost $20,000 and Up
If you work with an agency and have a website development budget of $20,000 or more, you should be able to get a website with many customizations built to your exact specifications.
A custom-built website will include separate designs for the home page as well as landing pages for key sections of the website. You will have more flexibility in terms of features and functionality, as well the ability to incorporate larger amounts of data (like a large product database on an ecommerce site), the capacity for a more complex site structure and menu system, and higher end visual elements like photography and animations.
The larger your budget, the more customized functionality you'll be able to offer, including a complex ecommerce store, online form submission, password protected areas, and complex modules that interface with your internal CRM.
With any agency website project, you'll have a project manager to coordinate the efforts of the agency team and act as a liaison with your company, and you'll have on-call access to a team of professionals dedicated to delivering a website that meets your expectations and goals.
What to consider:
Do you have very specific ideas for how you want your website to work, which may be unique to your company or industry?
Are there several pages on your site that will require a custom design?
Do you have internal systems that your site will need to interact with, like a database, intranet, accounting program, or customer relationship management system?
Will the site be very large, with a complex navigation?
Will you need ongoing digital marketing or other services after the website is complete?
The bottom line: With a budget of $20,000 or more, you'll get a custom-designed website with a beautiful design and flexible functionality that serves as a powerful engine to drive your business.
---