How to Turn Negative Comments and Reviews into a Positive

for Your Business

posted on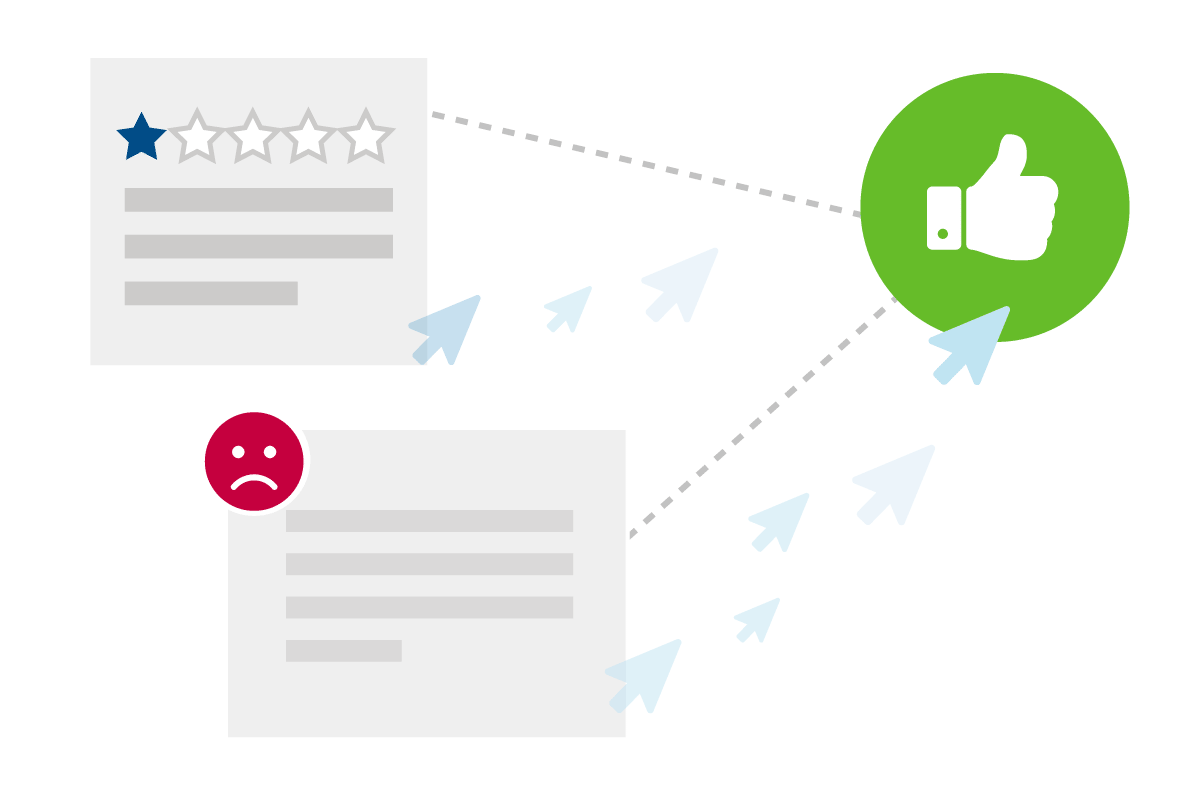 No one likes getting negative feedback, and the stakes are even higher when the target is your business. While 94% of consumers say a negative review has convinced them to avoid a business, negative feedback on review sites and social media can actually help your business, provided you handle it the right way. Turn negative feedback into great customer interactions by following these 12 tips.
Monitor your online reputation. In order to deal with negative feedback, you need to know when and where it appears. Set Google Alerts to send you a notification when your brand is mentioned online, check all your social media accounts for mentions, or use a social media monitoring tool like Hootsuite to check for negative mentions across multiple platforms.
Don't ignore negative reviews. A negative review is a valuable opportunity to connect with customers and show you care about their problems—don't squander it by failing to respond. According to ReviewTrackers, 45% percent of consumers are more likely to visit a business if it responds to negative reviews.
Reply quickly. One of the most important ways to manage negative feedback is to address it promptly. Don't let a bad review or comment go unaddressed for days, or even weeks—that sends a clear message that you don't care. According to a recent study by SurveyMonkey, 73% of U.S. consumers consider fast response time an important part of good customer service. Once you spot negative feedback, respond quickly—preferably within hours.
Don't delete negative comments on social media. When someone posts a complaint on your company's social media profile it can be tempting to wipe the slate clean by simply deleting the comment—don't. Even if no one else knows you deleted it, the person who posted the comment will know. Best case scenario, you've lost that customer; worst case scenario they tell their friends you ignored them and come back more frustrated than before.
Express your gratitude. It may seem counterintuitive to be grateful for a bad review, but remember that by posting a comment or review about their negative experience, your customer is giving you a chance to address it and make it right—that's a real gift! Start each interaction by expressing your gratitude to them for taking the time to make you aware of the problem.
Take it offline. When a negative review is posted in a public forum, be sure to reply publicly, but keep it general. If there is a specific issue you need to work out with the complainant, don't hash it out publicly—encourage them to contact you directly by phone, email, direct message, or private chat.
Be respectful. If someone comes to you with a problem, they've already had a less-than-stellar experience with your brand—don't compound the problem by being rude or dismissive. Even if someone is being insulting or disrespectful, stay neutral, polite, understanding, and focused on the issue at hand.
Offer a sincere apology. For legal reasons you may not want to accept blame for something that is not your company's fault, but you can certainly say you're sorry for your customer's poor experience, inconvenience, and frustration.
Don't pass the buck. It may be true that the negative experience was not your fault, but don't lay the blame on someone or something else. By posting a review or comment about your company, your customer has made it your problem. Focus on what you are able to do to fix the problem, not what someone else should have done.
Avoid arguing. Even if you think the person is mistaken or is deliberately misrepresenting facts, arguing won't solve the problem, and will only serve to frustrate and antagonize the person you're supposed to be helping.
Encourage customers to update their reviews. If you're able to resolve the customer's issue to their satisfaction, consider asking them to update their review or comment to reflect that. Seeing that you were able to turn a complaint into a satisfied customer will improve your company's image and make people trust that their concerns will be addressed if they do business with you.
Ask to have fake reviews removed. While it's always a good idea to respond to real complaints from real customers, you may want to consider asking the review platform to remove any reviews that violate the site's policy or are clearly inaccurate, irrelevant, inappropriate, or written by someone with a conflict of interest such as a competitor or current or former employee. Use these links to get more information or report a review on Google, Facebook, and Yelp.
---