4 Tips to Help You Reach a
Larger Audience on Facebook
Updated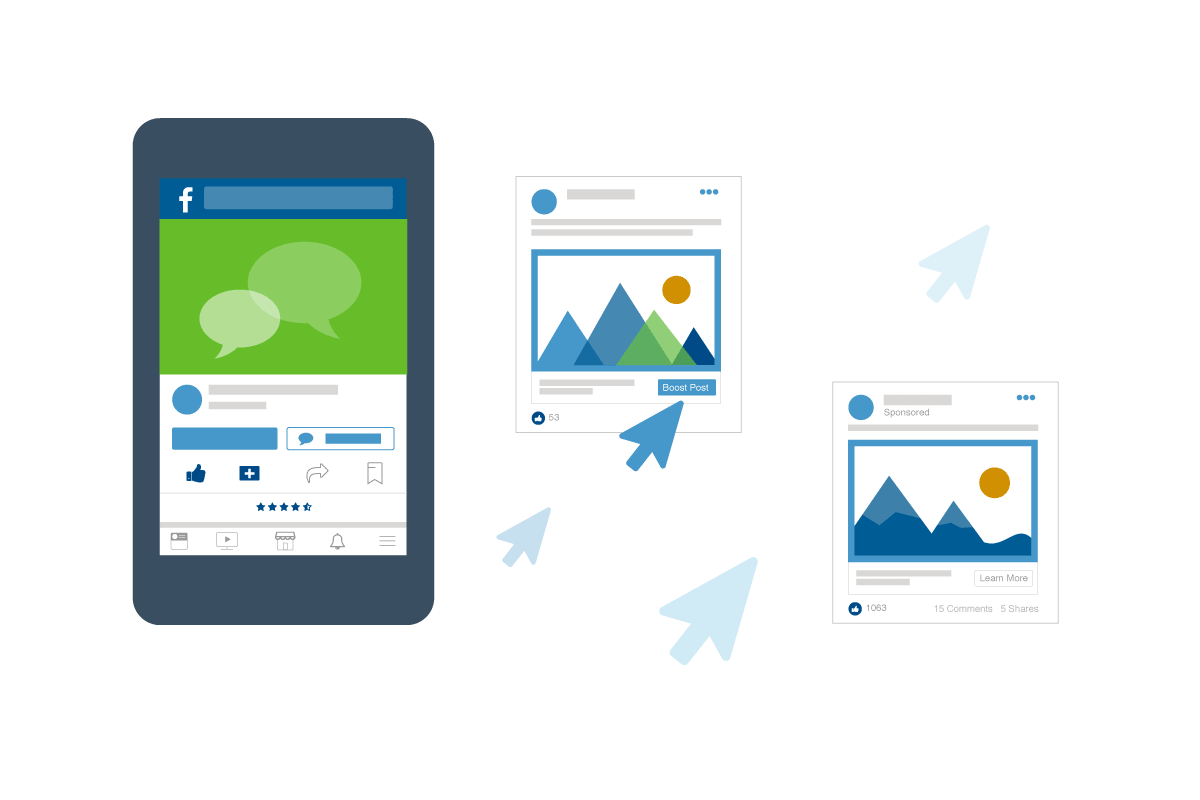 With more than 2.5 billion people worldwide using Facebook every month, having a Facebook business page is a great way to reach a large audience of potential customers. But with 4.7 billion new Facebook posts every day, how do you make sure your Facebook marketing efforts are standing out from the crowd?
Want to increase your reach and improve your competitive edge? Consider using Facebook's advertising options to get the attention of your Facebook audience. Facebook offers two different types of paid advertising—boosted posts and ads.
Facebook Boosted Posts
With Facebook's boosted posts, you take a regular post on your Facebook business page and turn it into an ad to "boost" it to a wider audience. Simply choose a post and click the Boost Post button.
A boosted post looks exactly like a regular post and will appear in the normal news feed, but it will be labeled as sponsored content. You can also opt to add a button to your boosted post—your choices are Shop Now, Book Now, Learn More, Sign Up, Get Directions, or Send Message.
You choose who sees the boosted post, either by defining a new audience based on age, gender, geographic location, and interests; creating a custom audience based on your existing contacts; creating a lookalike audience to reach people who have similarities to your known audiences; or showing the post to people who like your page and their friends.
You can determine the maximum amount you want to spend boosting the post and Facebook will show you an estimate of how many additional people you will reach with the budget you set.
You define how many days the boosted post will be shown, either by choosing a number of days or setting an end date.
Boosted posts can appear in the desktop and mobile news feed, in Audience Network (videos only), and on Instagram.
Facebook Ads
Facebook ads let you choose a marketing objective, including awareness (brand awareness, reach), engagement (likes, app installs, event responses, video views), and conversion (store visit, sales).
You can then set a budget, choose the audience that will see your ad (based on demographics, behaviors, or contact information), and create an ad with a wide number of formatting and feature options, including photo, video, carousel, and slideshow.
To encourage conversions, you can also add a button with one of five call-to-action options: Shop Now, Learn More, Sign Up, Book Now, or Download.
Ads can appear in the desktop and mobile news feed, in Audience Network, Messenger, and on Instagram.
For more on digital advertising on social media, see our post Choosing the Right Type of Digital Advertising: Display vs Search vs Social.
When Should You Use a Boosted Post vs a Facebook Ad?
Due to Facebook's content algorithm, just because someone likes your Facebook business page doesn't mean your content will appear in their news feed. A boosted post is a quick and easy way to show your content to people who may be interested but who otherwise might not see it.
If you're looking to show thought leadership, get more engagement, and increase brand exposure, a boosted post may fit the bill. A post is a good candidate for boosting if it isn't selling anything, but provides useful or interesting information about your company and has already gotten some engagement in the form of likes, comments, and shares.
If your main goal is to drive users to take some action, like make a purchase or visit to your website, a Facebook ad is the better option. Also, while a boosted post will appear on your Facebook page, a Facebook ad doesn't have to, so you can create an ad that your existing audience doesn't ever see.
Free Tricks: Pinning & Embedding
If you want to make sure a specific post doesn't get lost in the shuffle but don't want to pay to boost it or buy an ad, you have two free options.
You can pin the post, so it remains at the top of your Facebook page even if it's not the most recent post. A pinned post will stay at the top of your timeline for seven days, after which it will return to its proper chronological place in your timeline.
You can also embed a Facebook post on your website by going to the post you want to embed, clicking Embed, then cutting and pasting the code that appears and adding it to your website where you want the post to appear.
---