5 Types of Emails

You Should be Sending Your Customers

posted on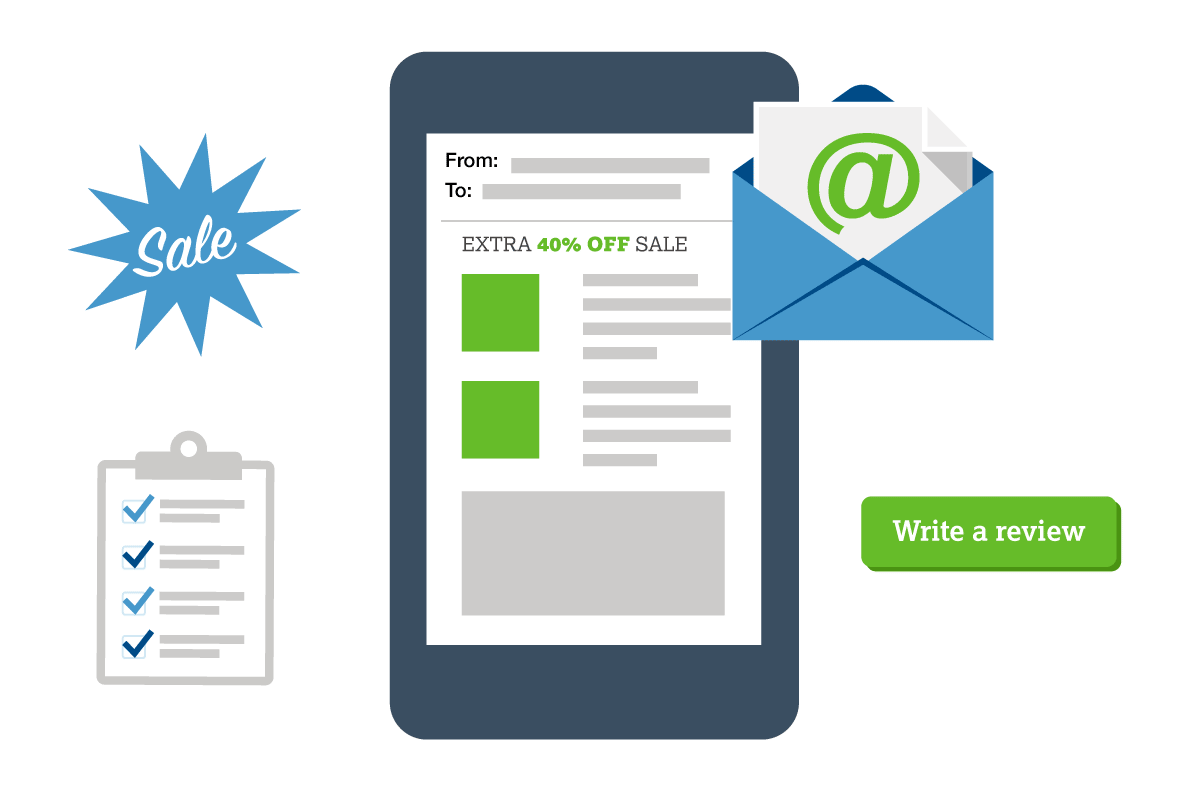 Think social media is big? Email is bigger. There are 3.7 billion email users worldwide, compared to 2.5 billion people on social media. Not only does email have a larger user base, it offers an unbeatable return on investment (ROI) for marketing—122%, which is more than quadruple the ROI of any other marketing method.
For businesses looking to connect with customers and increase leads and sales, email is a tried-and-true solution. If your current email marketing tactics aren't delivering the engagement or conversions you want, kick things up a notch by sending these 5 types of emails to your customers.
1. Welcome Email
When someone starts a new relationship with your organization, whether by signing up for an email newsletter, making a purchase, or performing some other desired action, the first communication they get from you should be a welcome email.
A welcome email should be sent within 24 hours of opt-in (if you use an email marketing platform, you can set them up to be triggered automatically when the desired transaction takes place) and should thank them for their interest and tell them what they can expect from you in the future.
A welcome email not only makes your new customer feel appreciated, it reinforces brand recognition and sets the tone for the relationship they will have with your company, so make a first impression that fits with your brand image.
Welcome emails tend to have higher open and click rates that other types of emails, so now is your chance to make an impression by providing helpful resources, tips, and contact information that will help users get the most out of your product, service, or website.
2. Offer Email
Offering your valued customers an exclusive discount or coupon is a great way to increase customer loyalty and drive sales.
If you have a new product or service, consider sending an offer email to give customers a chance to try it for a discounted rate. Be sure to explain the benefits of the offer (why they should take advantage of the offer and what value they will receive if they do), an image that illustrates the new product or service, and a clear and compelling call to action button to encourage readers to click through to the next step.
While you can send an offer email on its own, you can also include an offer as an added incentive for any of the emails on this list.
3. Survey Email
Want to build a stronger relationship with your customers? Show them you care by asking them for their opinions and feedback. Sending a survey email is a great way to get customer input, to help you learn more about your target audience, measure and improve customer satisfaction, and tailor your communications to meet the needs and desires of your customers.
Survey emails work well when they're sent after a purchase, event, or other interaction, so opinions are fresh in the customer's mind. When sending a survey email to a customer, be sure to express appreciation for their business, tell them how long the survey will take (the less time the better) and tell them how their answers will help you improve their experience with your company. Consider offering an incentive for completing the survey, like a discount off a future purchase.
4. Request for Review or Testimonial
Online reviews and customer testimonials are crucial to your business, and you can never have too many. The average consumer won't trust a business's star rating on a third-party review site unless it has at least 34 reviews, and having customer testimonials on your website make your business seem more trustworthy and drives potential customers to take action.
Remember that while customers who have a bad experience with a company are frequently all too eager to vent their dissatisfaction on a review site, those that have good experiences may need a little more encouragement.
As with survey emails, the best time to ask for a review or testimonial is after a purchase, when they're (hopefully) feeling a high level of satisfaction with your product or service. Don't send the email too soon after the purchase or transaction—you don't want to seem overeager or desperate—but don't wait so long that the customer has forgotten all about you.
When you ask someone to write a review or provide a testimonial, you're asking them to perform a task that can seem like a chore, so phrase your request in a way that makes them more interested in providing feedback. Instead of saying, "Please review your recent purchase," say something like, "How did the widget work out for you?"
Make things easier for your customer by providing a link to a third-party site where they can go to review your product, or a contact form to provide a testimonial.
5. Request to Connect on Social Media
The idea of sending your customers an email every day seems crazy, yet most of them probably visit social media sites multiple times a day. According to a survey by MediaKix, the average person spends almost 2 hours a day on social media.
Assuming you have chosen the social media platforms that are right for your business and developed a robust presence on those channels, getting your customers to devote some of that social media time to your brand should be a priority.
You can actually add a link to your social pages to all your emails, but it's a good idea to send a dedicated email telling customers what they'll find on your social media pages, why they should follow your brand, and what benefits they will receive (latest news, exclusive discounts, etc.) if they do.
---