7 Ways

to Re-Engage Inactive Email Subscribers

Updated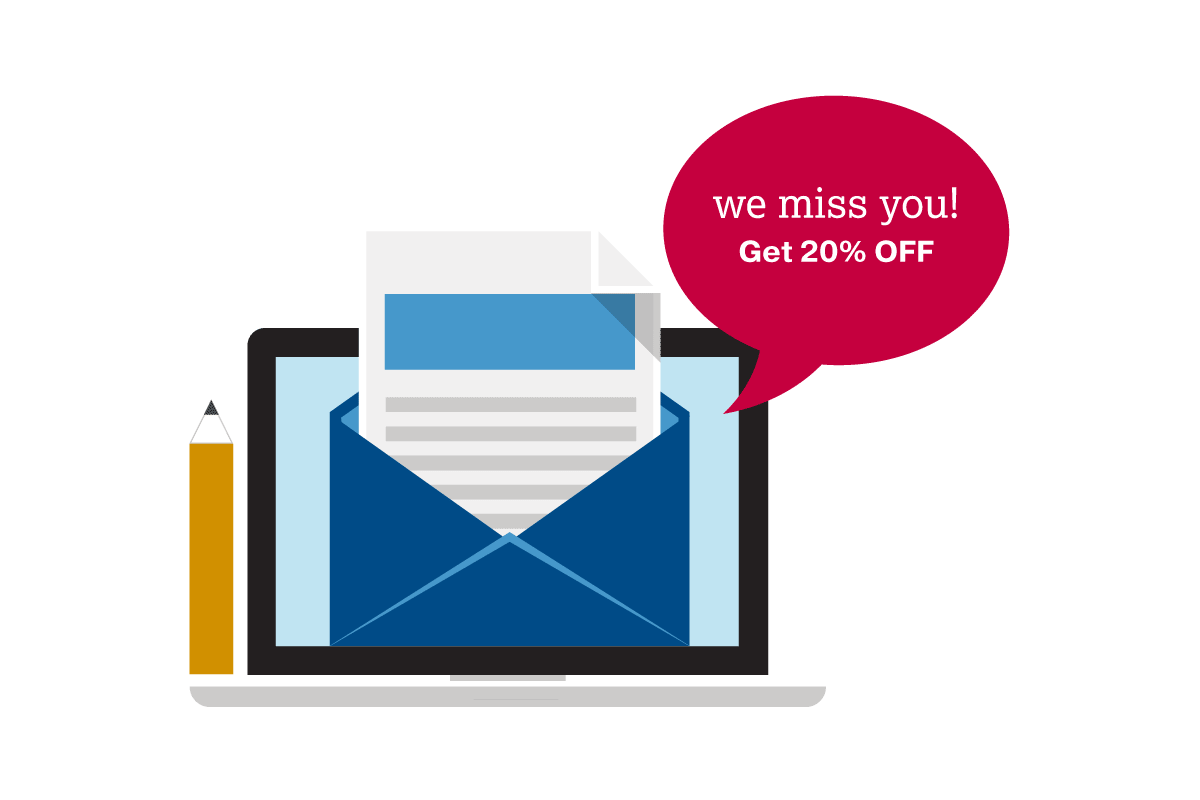 When it comes to using email for marketing, there's good news and bad news.
The good news is that email marketing is still an extremely effective way of reaching customers. The bad news is actually a side effect of the good news: because email is so effective, almost everyone uses it, which means people don't have the time or interest to open and read everything in their inbox.
If you've been using email marketing to reach both existing and potential customers, you probably have an email list filled with the addresses of people who have opted in to receive marketing communications from you.
As time goes on, some of those people will eventually become inactive, which means they have not opened, clicked, or engaged with any email in a given time frame. That time frame can vary depending on the type of email and the business, but usually an inactive subscriber is one that has been unresponsive for 6-12 consecutive months.
Having a large number of inactives on your email list can hurt your email marketing performance, skew your marketing data, and negatively affect your sender reputation. In order to keep the number of inactives as low as possible, use these 7 methods of converting inactive email subscribers into engaged customers.
Make sure you're sending emails at the right times. According to Campaign Monitor's Ultimate Email Marketing Benchmarks for 2022, average email open rates across all industries are highest on Mondays (22%) and lowest on Sundays (20.3%). Click-to open rates are highest on Tuesdays (10.8%) and lowest on Fridays, Saturdays, and Sundays (10.1%).
Give customers the option to change email frequency. Getting too many emails is a common reason why people stop opening or interacting with emails. To make sure you're emailing your customers on a schedule that works for them, send an email that lets them adjust the frequency—even the gesture of showing you care about them may be enough to get them clicking again.
Switch up your subject lines. According to a study by the Direct Marketing Association, 59% of consumers say the subject line is one of the top factors that persuades them to open an email. If your subject lines are getting stale, try a new approach: test different tones, lengths, topics, and value propositions, and experiment with adding numbers, emojis, and personalization.
Try a re-engagement campaign. A re-engagement email can help persuade customers to resume interacting with your emails. Signal your intention to win them back with a direct, engaging subject line that tells them you've noticed their absence and want to reconnect. Use the email to remind them what you have to offer, inform them about anything new, and tell them how your emails will benefit them. Be sure to include an enticing call to action to get them to click.
Extend a special offer. Another way to re-engage inactive email subscribers is by giving them an exclusive offer, deal or discount as an incentive to click on the email and get re-acquainted with your brand. This can be a single email or an automated series with offers that increase in value.
Segment your list. If your subscribers are not interacting with your emails, there's a good chance it's because they're not finding the content relevant to their particular interests or needs. Improve your targeting by segmenting your email list by customer type, interests, buying stage, or any other factor that will enable you to send customized content to your customers.
Give them the option to unsubscribe. It might sound counterintuitive, but sending inactive subscribers an email asking if they'd like to continue receiving emails or unsubscribe can actually re-kindle their interest in your emails, so the next time they get one they are more likely to open it. Even if they unsubscribe, that's not all bad, as unsubscribes can actually be positive for your email marketing.
---