How to Get More Customers With
Local Search Engine Optimization
Updated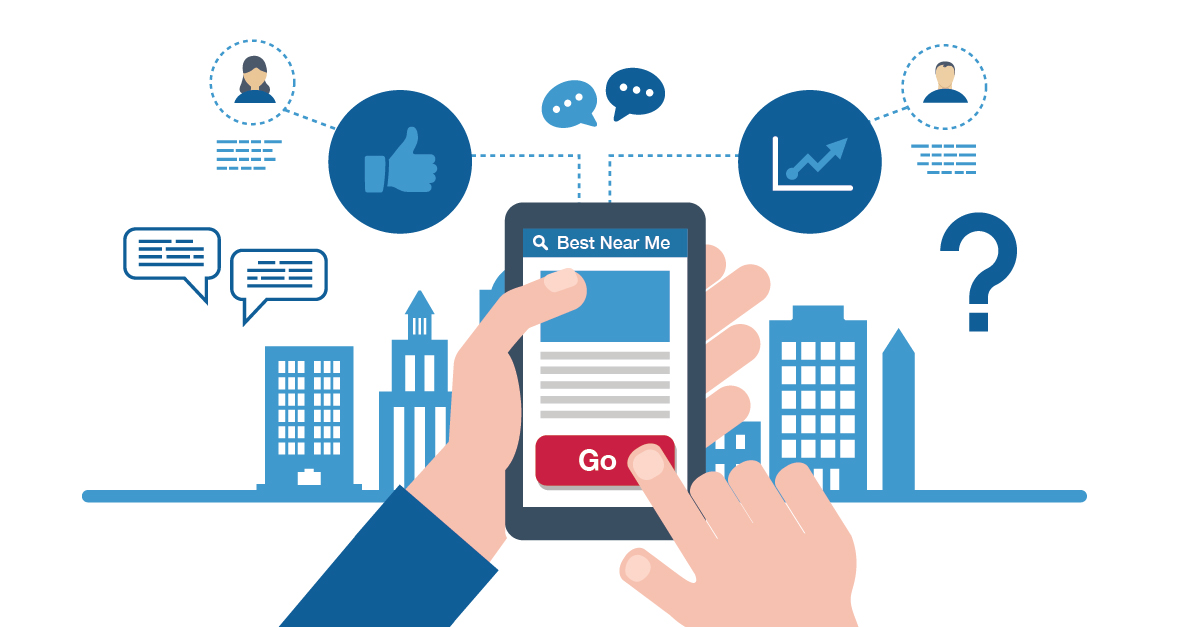 Do you know where your customers are coming from? With 86% of consumers relying on the internet to find local businesses, chances are the next person who walks through your door has already looked up your business online. It's important to improve local search engine optimization so these users can discover your business and turn into customers.
According to Google, "near me" mobile searches have increased 500% over the last two years, and many of the people making those searches are looking for a physical location to make a purchase. A study by Google found that 76% of consumers who conduct a mobile search for a local business visit a store within a day.
So how do you give your business the best chance of ranking high on Google's search engine results pages (SERPs) to make sure those local searchers can find you? Follow these steps.
Claim your business.
When a business is opened, Google creates a business listing including name, address, map, hours, and other details. When you claim your Google Business Profile (formerly called Google My Business) page you take control of that profile, so you can verify that all the information is correct, make updates when needed, respond to reviews, answer questions, and add interesting content to get the attention of your customers.
Why does your Google Business Profile matter? Because whenever someone searches for a local business, Google displays results using information it has in its database of local businesses.
Google used to show seven local business listings in its search results but several years ago it reduced that number to three, and soon in will be down to two listings, with the third spot reserved for a paid ad. So if you're a local business it's more important than ever to have a robust Google Business Profile page to increase your chances of appearing.
For easy instructions, visit Get Your Business Online with Google, which tells you how how to claim and optimize your Google Business Profile page. And don't stop at Google—claim your business on other sites with business listings, including Bing, Yahoo, and Yelp. For details on how to claim your business for local search and a links to claim-your-business pages, see our blog post Hey Siri: Find My Business.
Add great photos.
According to a study by BrightLocal, 60% of consumers said local results with images get their attention and influence their decision to visit the business. If you don't upload your own photos to your business profile in Google, Bing, YellowPages.com and other listing sites, you're missing out on a great opportunity to showcase your business.
Add localized content to your site.
If you want local customers, you need to sound like you're local. Create blog posts that mention local news, events, and activities, as well as special deals or promotions at your location. Make sure your NAP (Name, Address, Phone) appears on every page of your site, and that it exactly matches your NAP info on your local business listings.
Generate local reviews.
According to a recent study by BrightLocal, 86% of consumers and 95% of people aged 18-34 read online reviews for local businesses. Good reviews also make a huge difference in search rankings. Use social media or email campaigns to encourage customers to leave reviews on Google, Facebook, and Yelp or add a link to your website that will take customers to your review page. Always monitor your online reviews and respond courteously and quickly to any negative reviews.
Get listed in local directories.
Make sure your business is included in local directories such as TripAdvisor, InfoUSA, and Angie's List. (For more, see this list of 57 Online Local Business Directories.) There are a lot of them, including many that are focused on a specific region, state, city, or topic, so if you don't have time to update your listing on all of them you can use an aggregator service like Localeze, Synup, or Data Axle, which will take your business information and push it out to many other sites.
---
Using these tactics for local search optimization will vastly improve your chances of being one of the select local business that appears on the screen the next time a potential customer looks for a business "near me."
---