How
Email Unsubscribes

Can Actually Improve Your Marketing

Updated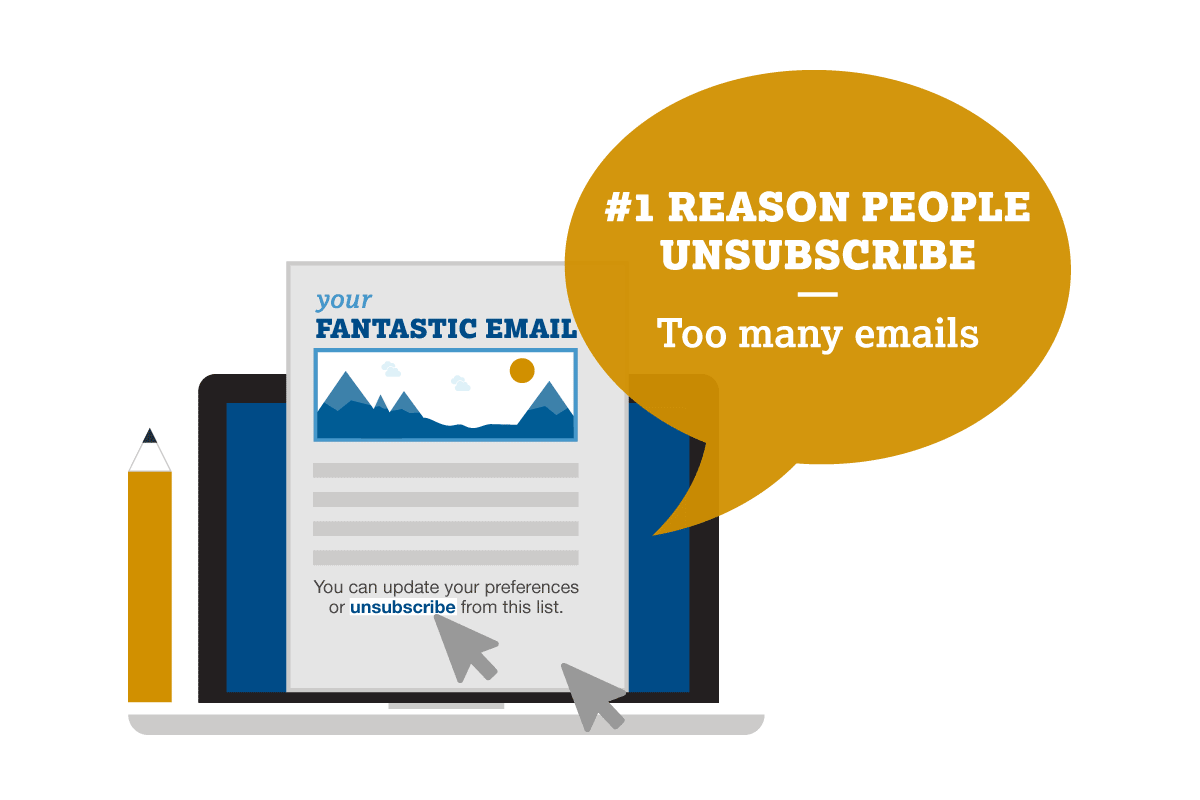 One of the most disheartening things in marketing is when someone unsubscribes from your emails.
When you've been trying to create great emails to keep your customers interested and engaged, an unsubscribe tells you that at least for one customer, your efforts are falling flat.
People unsubscribe for many different reasons, but the most common reason is that they get too many.
Reasons for Email Unsubscribes
56% Too many emails
38% No longer find the brand or information relevant
34% Don't recognize the brand or don't remember signing up
24% Unsubscribing is easier than marking as junk/spam
22% Don't like or trust brand
19% Had a bad customer experience
11% Have heard negative stories about brand
Source: Consumer Email Tracker 2021
According to 2022 data from GetResponse, the average email unsubscribe rate is 0.11%. Why so low? Because people actually want to receive emails from brands. According to the 2021 Consumer Email Tracker report, 70% of consumers prefer that brands communicate with them via email rather than any other channel, including phone, social media, mail, and face to face.
If you're seeing a higher-than-normal level of unsubscribes, the first thing you should do is take stock of your email marketing efforts to make sure you're doing everything you can to deliver useful, interesting, valuable content to your subscribers. Here are the things you need to check.
Email Subject Lines
Are your email subject lines grabbing the recipient's attention? After all, some unsubscribes could be a result of the recipient deciding they no longer want to receive your emails based on the subject line alone. Make sure your email subject lines are descriptive, engaging, and clearly convey the value the reader will receive by opening the email.
Not sure where to start? Try using a free email subject line checker such as SubjectLine.com or Email Subject Line Grader. Both tools let you enter a subject line then give you a score out of 100 along with suggestions for improvement, including adjusting length, instilling a sense of urgency, using numbers, and adding words that evoke action, power, or emotion.
For more on subject lines, see our blog post Subject Line Hacks to Get Your Emails Opened.
Email Frequency
The #1 reason people unsubscribe from emails is that they get too many. There is no golden rule for how many emails to send—it depends on the needs, interests, and preferences of your specific audience.
To avoid triggering unsubscribes by overloading your recipients with too many emails, give them the ability to adjust the frequency. You can do this by creating an email preference center and providing a link in the email, by asking customers for their preferred frequency at the time of signup, or even as a dedicated email survey in which you explain that you want to adjust your email sends to meet their specific needs.
For more on email frequency, see our blog post Finding Your Frequency: How Often to Send Emails.
Email Subscriber List
You want your email subscriber list to be filled with people who are interested in hearing from you. Unfortunately, email lists degrade about 22% per year as people change or abandon email addresses, or simply stop engaging with your emails. Those "bad" addresses serve as dead weight, dragging down your open rates and preventing you from maximizing leads and conversions.
To keep your email lists as "clean" as possible, there's no need to wait for unsubscribes—go through your list manually or use an email list cleaning service to remove invalid addresses. If you also plan to drop unengaged subscribers from your list, be sure to send them one last goodbye email telling them they are being removed from your list and giving them a chance to opt back in.
For more on email lists, see our blog post 8 Ways to Build Your Email List.
Email Content
Almost half of people who unsubscribe from emails do so because the content of the emails is not relevant to them. In some cases that can't be avoided—someone who was very interested in baby registries a year ago likely has no interest in them now, for example—but in other cases not finding the information relevant just means it's not holding their interest.
To ensure you are delivering content that is relevant, interesting, and valuable to your customers, make sure you have a good understanding of your target audience and create content designed to address their specific needs or interests.
Map your content to the customer journey so you have enough content for all stages of the buying process—awareness, consideration, and action—and segment your email list so you're sending the right content to the right people.
For more on how to create compelling email content, see our blog post 5 Types of Emails You Should be Sending Your Customers.
---
Even if you've gone through the above steps, you're bound to still get the occasional unsubscribe. Here's what you need to do.
Be grateful. When someone no longer wants to receive emails from you, they have two options—they can unsubscribe or they can mark it as spam, and unsubscribing is by far the preferable option. Having an email you send marked as spam lowers your sender reputation, could cause future emails to be blocked by spam filters, and may even get you banned from using your email marketing service. The main reason people choose to mark legitimate emails as spam is that the unsubscribe process is too confusing or difficult. Make sure you include a clearly visible unsubscribe link in every email, and don't require people to log in to an account in order to unsubscribe or change email preferences.
Give them choices. You are legally required to offer subscribers a one-click option to unsubscribe to all your emails, but that doesn't mean you can't give them other options. Consider creating an email preferences center where users can unsubscribe to all emails or chose a different option, like changing the frequency of the emails they receive, taking a break from all emails for a certain amount of time, or selecting which types of emails they want to get. Encourage them not to unsubscribe completely by telling them what they'll be missing if they do.
Ask for feedback. It's important to know why someone has chosen not to receive your emails anymore. Was it something you did to turn them off, like poor service or a disappointing product? That information can help you improve. Are your emails just not a good fit due to a change in interests or life situation? That helps you understand your ideal audience and customer lifecycle and could help you expand your offerings to keep customers interested. To get this valuable information, use your unsubscribe confirmation screen to ask them why they unsubscribed using a simple multiple choice or drop-down list.
---