8 Ways to Build

Your Email List

Updated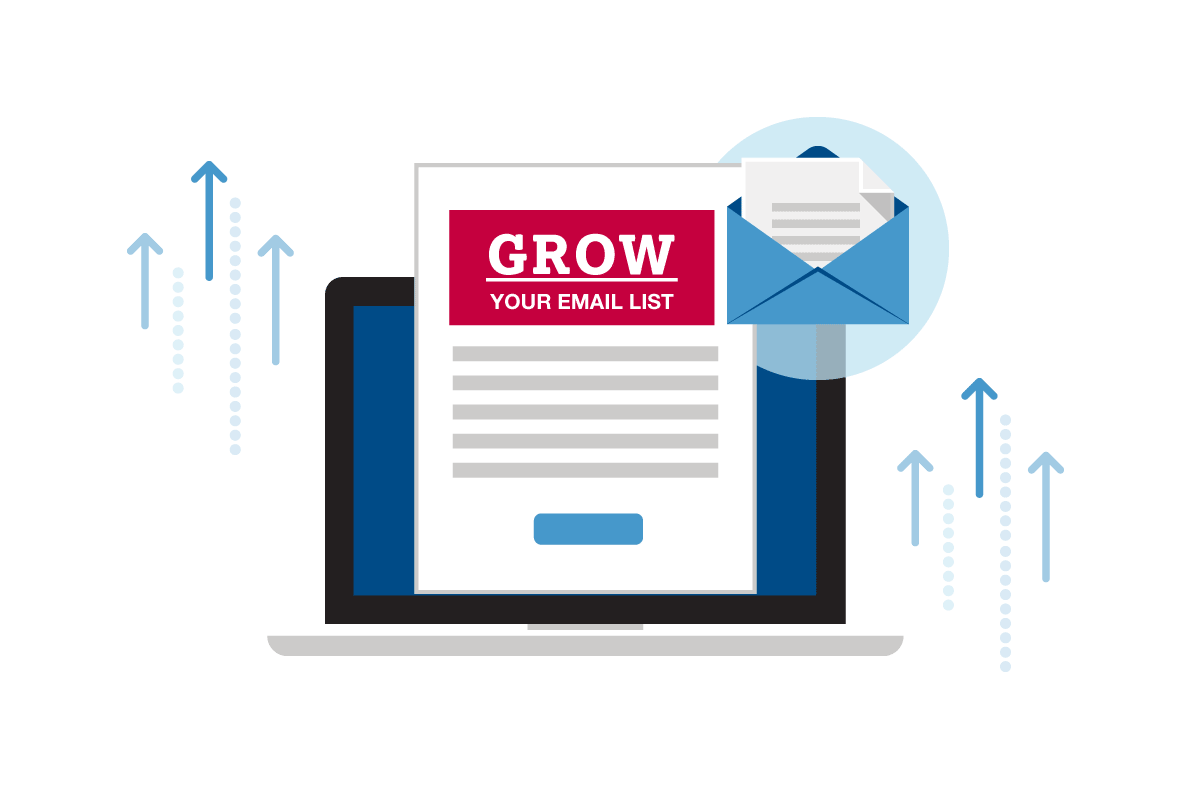 Email is a great marketing tool for reaching potential customers. It delivers a better return on investment than any other marketing channel, it's ubiquitous and easy to use, and there are many different types of emails you can use to generate leads and increase customer engagement.
In fact, 64% of small businesses use email marketing to reach customers and 37% of brands are increasing their email budgets. The problem is, the success of your email marketing depends on the quality of your email list. You need a strong list filled with a healthy number of valid email addresses belonging to people who are interested in hearing from you.
Even if you already have a lot of emails in your subscriber database, it always helps to have more. Your email list naturally degrades every year as people change jobs, abandon old email addresses, or simply become uninterested in your emails and opt out.
Adding fresh new email addresses from people who recently expressed interest in receiving content from you is a great way to keep your email marketing database strong and relevant.
If you're looking to build your email list, try these 8 ideas.
Offer a free download on your website. Do a content audit of your website to identify opportunities to add premium gated content that requires an email address to download. Consider offering an ebook, how-to guide, comparison worksheet, or whitepaper that expands on the content offered on your site.
Create an email newsletter. If your company has frequent updates, news, or new blog posts, start an email newsletter and add a pop-up box to your site asking site visitors to subscribe to get all the latest content from you. Here's an example email signup from our In the Know blog:

Host a webinar. Identify a trending or important topic that falls within your range of expertise and schedule a webinar to share your insights. When users register to attend, ask them to provide their email and opt-in to future emails from you.
Offer a giveaway or coupon. One of the best ways to get new customers is to let them try your product or service for free. Use your website and social media pages to offer a free sample or discount and require an email to get it.
Run a contest. Leverage the universal love of free stuff and hold a contest that requires an email to enter. Be sure to make the prize relevant to your business to avoid contest entries that are only in it for the freebie and have limited potential as customers.
Use digital advertising. You can use text-based search ads, display ads, and social media ads on platforms like Facebook, LinkedIn, Instagram, and even Pinterest and Snapchat, to drive qualified traffic to your landing pages and hopefully get email signups.
Participate in social media groups. Join Facebook or LinkedIn groups related to your industry and pay attention to any comments or questions related to your products or services. Chime in with helpful answers and ask if you can share more information. Privately send whoever is interested a link to one of your list-building landing pages.
Publish your presentations. Use SlideShare to share Powerpoint presentations on your company and industry to raise brand awareness and demonstrate your industry expertise and thought leadership. You can use these presentations to collect emails by inserting a contact form into the SlideShare presentation, or you can simply include a link to a lead-generating landing page.
One idea that's not on this list is purchasing an email list. Buying a list of email addresses may seem like an easy way to build your list, but it's rarely a good idea.
Not only is it difficult or impossible to know how many of the emails on the list belong to people you would want to target, emails to purchased addresses get fewer opens and clicks, and sending emails to a huge list of people who have no idea who you are could annoy potential customers and damage your reputation.
In addition, sending emails to a purchased list violates the terms of use for some email marketing platforms like Mailchimp and Constant Contact.
In general, a good rule of thumb is to only send emails to people who have opted in to receiving email from your company.
---