13 Ways

to Get More Likes, Comments, Shares and Views on Your YouTube Videos

Updated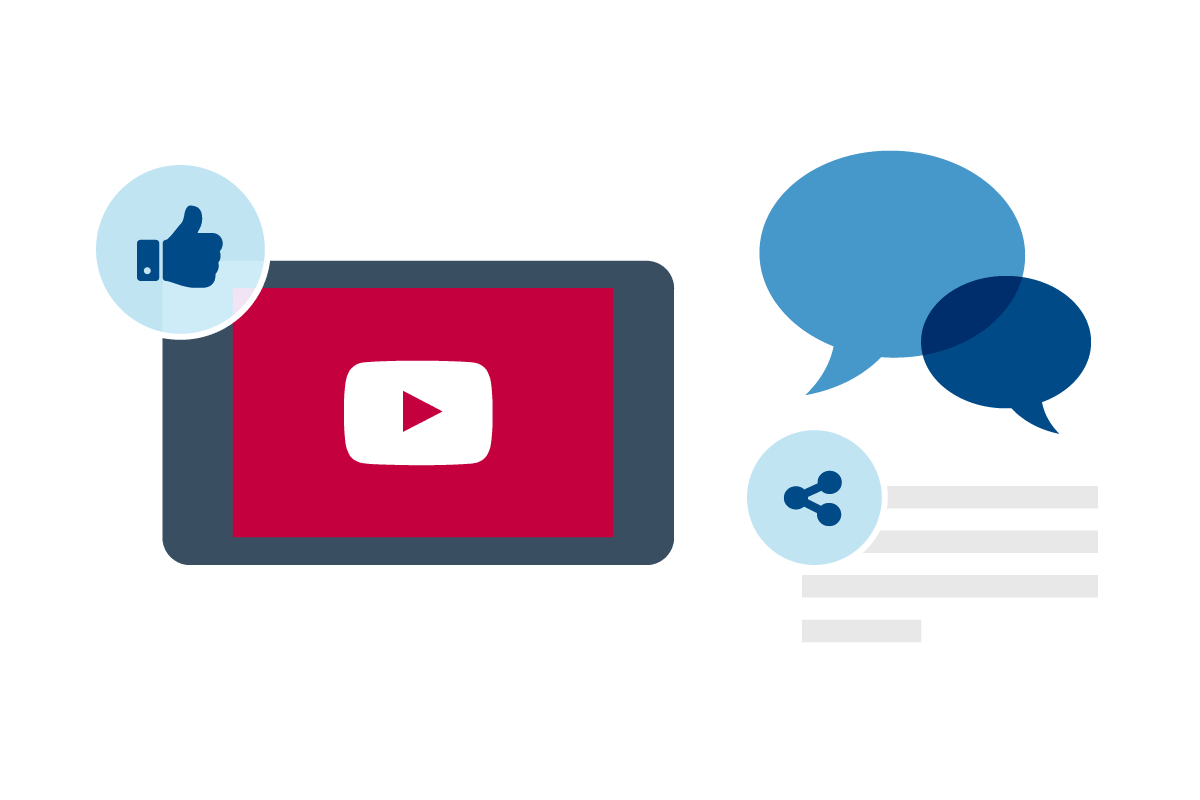 Every day, people watch almost 5 billion videos on YouTube. If you're a small business trying to get more views and engagement on your YouTube videos, that's a lot of competition. The good news is, more than 122 million people watch videos on YouTube daily, and their appetite for videos is only growing.
If you are interested in using YouTube videos to promote your business, follow these guidelines to make sure your videos are getting the most views and the maximum amount of engagement.
Create an attention-grabbing title. The title of a video is the #1 thing that determines whether someone decides to view it, so write a compelling title that makes people want to watch. Make sure the title includes your main keyword and accurately describes the content of the video. Consider using a number (either the year or the number of things you cover in the video) and a description in brackets, like [VIDEO] or [HOW-TO-GUIDE], both of which have been shown to increase click-through. YouTube allows up to 100 characters in a title, but the optimal length is 60-70 characters including spaces because anything longer is likely to get cut off in search results.
Write a good video description. The YouTube description appears under the title, and it should help potential viewers and search engines understand what the video is about. YouTube allows a whopping 5,000 characters (about 800 words) for your description, but only the first few lines will be visible in search results, so start with a strong, 2-3 sentence introduction that includes your target keywords. Use the middle section of your description to provide more detail on the contents of the video, and at the end, provide links that users can click to get more information, such as your website and social channels.
Use a custom thumbnail. Thumbnails are usually the first thing viewers see about your video, so the thumbnail image you choose needs to get their interest quickly. If you're looking for more engagement, take the time to create custom thumbnails for your videos rather than using an auto-generated freeze frame from the video—according to YouTube, 90% of the most-viewed videos on YouTube use a custom thumbnail.
Include relevant tags. YouTube tags are keywords or short phrases that give YouTube information about the content and context of your video and function as important ranking factors for YouTube searches. Add 5-8 tags to each video, including your main keywords and variants, the overall category, and a mix of broad and specific tags.
Add hashtags. As with other social media channels, hashtags make your video more searchable and increase visibility. You can include hashtags in your video title and/or description. Be judicious with hashtags—adding too many can make the video seem less

relevant in searches. If

you add more than 60 hashtags, YouTube will penalize your video by ignoring ALL the hashtags in your description and may even remove the video.
Use closed captioning. To make it easier for viewers (and search engines) to understand what's going on in your video, include a written version of the audio. Upload a transcript of your video or use YouTube's automatic captioning, which uses speech recognition to automatically generate captions for your videos. (The speech recognition isn't perfect, so be sure to go through the captioning to correct any errors before you make it visible to viewers.)
Use analytics to understand your audience. You probably think you know who your YouTube audience is, but YouTube's analytics—which can tell you the demographics of your audience, which videos they prefer, and how engaged they are—can be very valuable for either confirming your strategy or telling you when you're missing the mark.
Optimize for suggested video. YouTube uses your video's title, description, and tags to determine when to suggest it to someone who just watched a related video. To increase your chances of appearing high in suggested video rankings, identify the most popular videos with content matter related to yours, and use the same tags.
Encourage engagement. There is a strong correlation between how many comments, likes, and shares a video gets and how high it ranks, so at the end of your video, be sure to ask people to make a comment, share the video, or subscribe to your channel.
Interact with your viewers. If you ask your viewers to engage with your video content, you should return the favor. Monitor viewer comments on your videos, reply promptly to any questions, and join discussions. Opening the lines of communication with your viewers will encourage more engagement, boost the credibility of your channel, and could even translate to more website traffic and sales.
Use playlists. If someone likes a video enough to watch it all the way to the end, chances are they might like similar or related videos on your channel. Keep them watching by creating playlists to auto play several videos from your channel.
Add cards to your videos. YouTube cards are sort of like little ads that you can insert into your videos to add an element of interactivity. Cards can direct viewers to your website, ask them to take a poll, or link to another video or playlist they might be interested in. You can add up to 5 cards to each video.
Promote your YouTube videos on social channels. While you can post a link to a YouTube video on other social media channels or share them via the social share buttons on the video, it might be preferable to upload the video to the channel natively. Experiment with both ways to see which shows better engagement.
---