Video Marketing

: When to Use Live Video vs Recorded Video

posted on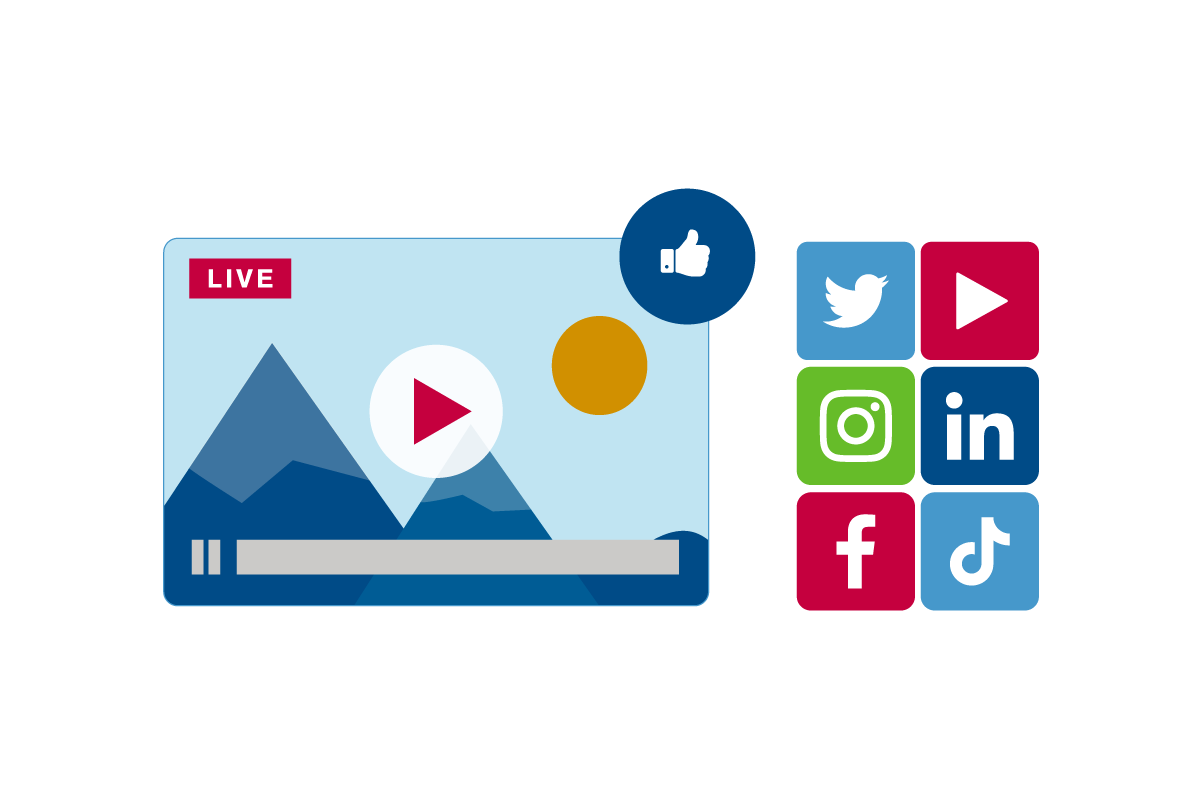 Video has become one of the most effective and widely used marketing tools—according to the State of Video Marketing 2021, 86% of businesses use video for marketing, an increase of 41% since 2016.
Consumers watch an average of 18 hours of online video per week—more than double the amount they watched three years ago. Not only do consumers love video, 85% say they actually want to see more video from brands.
Companies can benefit from the use of both live and recorded videos for a wide range of marketing purposes, including generating website traffic and leads, improving customer engagement and retention, raising brand awareness, promoting and explaining products or services, and increasing sales.
If you've decided to add video to your marketing mix, how do you decide whether to go live or record a video for on-demand viewing? While it's a good idea to use both video types in your marketing, it's important to choose the right format for each specific scenario. Follow these tips to decide which video variety fits your goals.
Live Video for Marketing
Live video, or live streaming, has grown in popularity over the past few years. YouTube Live launched in 2011, followed by Facebook Live in 2015, Instagram Live and Twitter in 2016, Vimeo Live in 2017, LinkedIn in 2019, and TikTok in 2021.
Online live streaming grew 99% from 2019 to 2020, and is expected to account for 17% of all internet traffic in 2022. Live video is preferred by 33% of marketers, and 63% of marketers are planning to increase their use of live video because of the excellent results it delivers.
Use Live Video When:
You want to capture a live event and make viewers feel like they're actually there, such as a store opening, company announcement, performance, interview, tour, or corporate event.
You want to be able to interact with your audience in real time, such as with live Q&A, polls, or chat.
You have a host or spokesperson who is comfortable in front of the camera.
You want your video to feel more authentic and accessible.
You want to produce a video on a smaller budget, without the need for a recording space or video editing software.
You want to increase subscribers to your video channel. YouTube found that channels featuring a weekly live video get up to 40% more subscribers.
You want longer viewing times. Viewers watch live video for about 24 minutes on average—27% longer than they watch on-demand videos.
You're especially interested in mobile users. According to Conviva's State of Streaming report, viewing of streaming video by mobile users increased 17% from Q4 2020 to Q4 2021, while viewing on desktop devices declined by 12%.
You're targeting Millennials, who are the largest consumers of live video. According to Statistica, 63% of Millennials watch live video regularly.
Learn more about how to use live video to promote your business.
Recorded Video for Marketing
Videos that have been recorded in advance, also called video on demand or VOD, are also an extremely effective marketing medium. With recorded video, you can write a script, choose a location, add special effects or use a green screen, then fine-tune with video editing software before you release it to the public for viewing.
Use Recorded Video When:
You want to convey a relatively short message with specific content.
You want to give viewers the flexibility to watch the video on their own schedule rather than at a pre-determined time.
You want to give customers detailed instructions on how to use a product or a description of how a process works.
You want higher production value for a more polished, professional presentation.
You want more control over how the content of the video is presented, including a set script, specific lighting, music, special effects, or other elements such as a slide deck or animation.
It's important that the video be free of mistakes or surprises.
Your video is covering evergreen content that will remain relevant rather than being tied to a specific event or time.
You are creating a video library or series that needs to have a similar look and feel.
Learn more about creating recorded videos that get results.
---