7 Must-Haves

for Your Corporate YouTube Channel

Updated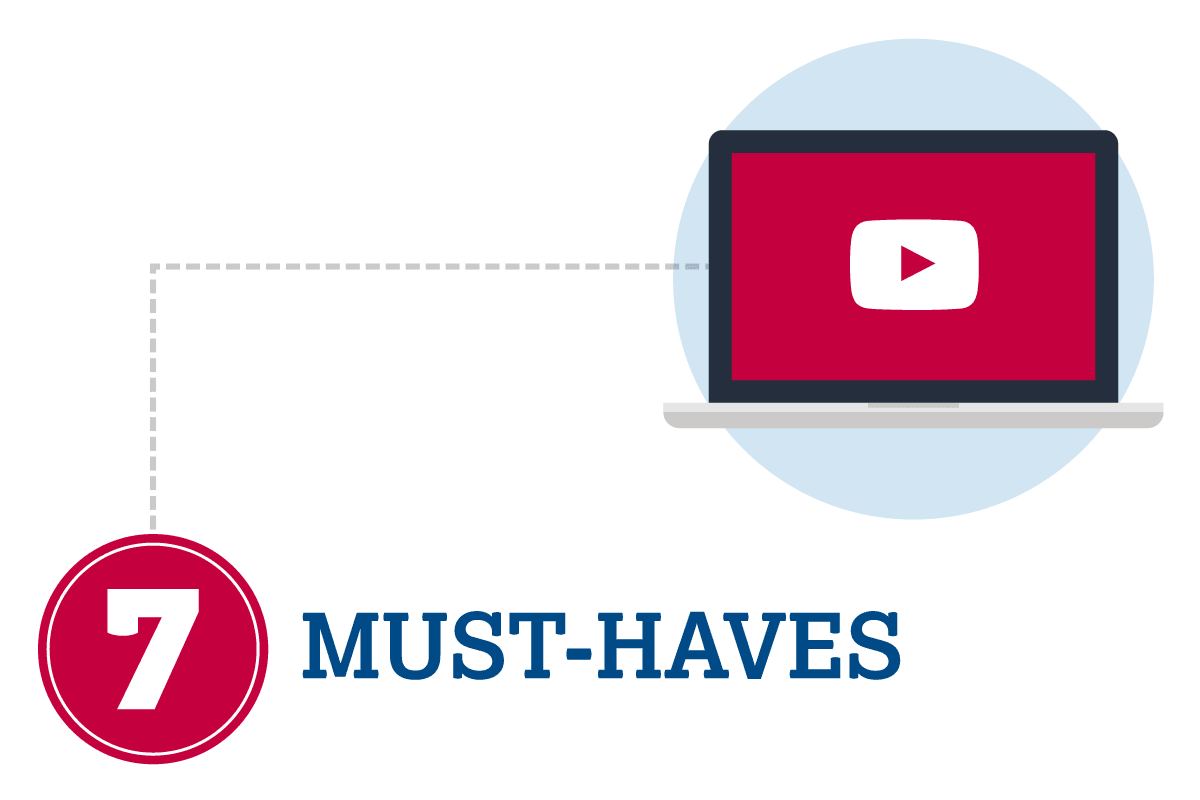 YouTube started as a fun way to share videos, but since its launch in 2005 it has grown into one of the biggest and most powerful platforms in the world.
It has more than 2.5 billion active users, and is second only to Google as a search engine and for overall website visits. Despite its popularity and reach, only 9% of small businesses have their own YouTube channel. Here's what you need for a successful YouTube channel to promote your brand and build your business.
1. A unique, on-brand idea.
Almost 5 billion videos are watched on YouTube every day, so you'll need to come up with something interesting to stand out from the crowd.
To get ideas, do a deep dive into what you know about your audience. Look beyond their reasons for buying your product or service to see if there are any commonalities in their interests, lifestyles, values, opinions, purchasing habits, and the websites and social channels they visit. Use that insight to come up with a theme for your channel that will resonate with your brand and strike a chord with your viewing audience.
For more on understanding your audience, read our blog post Want to Master Your Marketing? Know Your Audience.
2. A compelling trailer.
Just like a movie trailer, your YouTube channel trailer should grab the attention of new visitors and get them to subscribe to your channel rather than wandering off to look at videos of screaming goats. Your trailer is shown only to new visitors (subscribers see a suggested "What to Watch Next" video), so use it to introduce your channel and tell viewers what they'll get if they subscribe.
3. An engaging profile.
If someone likes your videos, they might want to learn more about your company and your channel, and for that they'll need to visit the About section. Include eye-catching banner art and a channel icon, and use the 1,000 allowed characters to describe your company and the purpose of your channel, including what subscribers can expect to see, the types of videos you make, how often they're posted, and what value they provide. Be sure to include links to your website and social channels.
4. Consistency.
A cohesive, compelling corporate YouTube channel requires more than a random collection of unrelated videos posted whenever you have the time. If you want a real audience for your channel, your videos should be tied together in a way that complements your brand, either with a common theme, a recurring character, or a consistent look and feel. You should also have a regular posting schedule. Choose something manageable—whether it's once a day or once a month, set a schedule and stick to it.
5. SEO.
YouTube is part of the Google family, so YouTube videos are integrated into Google search results. To optimize your videos for search, create a clear, compelling title and a detailed, keyword-rich description. You might also want to consider adding a written transcript to your videos, both for people who want to watch without volume and to throw more keywords into the mix.
To find keywords that users are searching for on YouTube, simply start typing your topic into YouTube's search field and see what autocomplete suggests. For a more complete keyword tool, try a keyword generator like Keyword Tool for YouTube.
6. Tags & categories.
Categorizing and adding tags to your videos not only lets viewers find your videos and know what they are about, it helps YouTube understand the content of your videos so it can suggest them to people who might like them. To add tags and specify categories for your videos, use your channel's YouTube Studio.
7. Playlists.
Once you have a substantial library of videos on your channel, help your subscribers find what they're looking for by curating playlists for every need, interest, or stage of the sales funnel and buyer journey. You can also use channel sections to group related videos together.
---