8 Ways to Use Online Reviews

to Power Your Business

Updated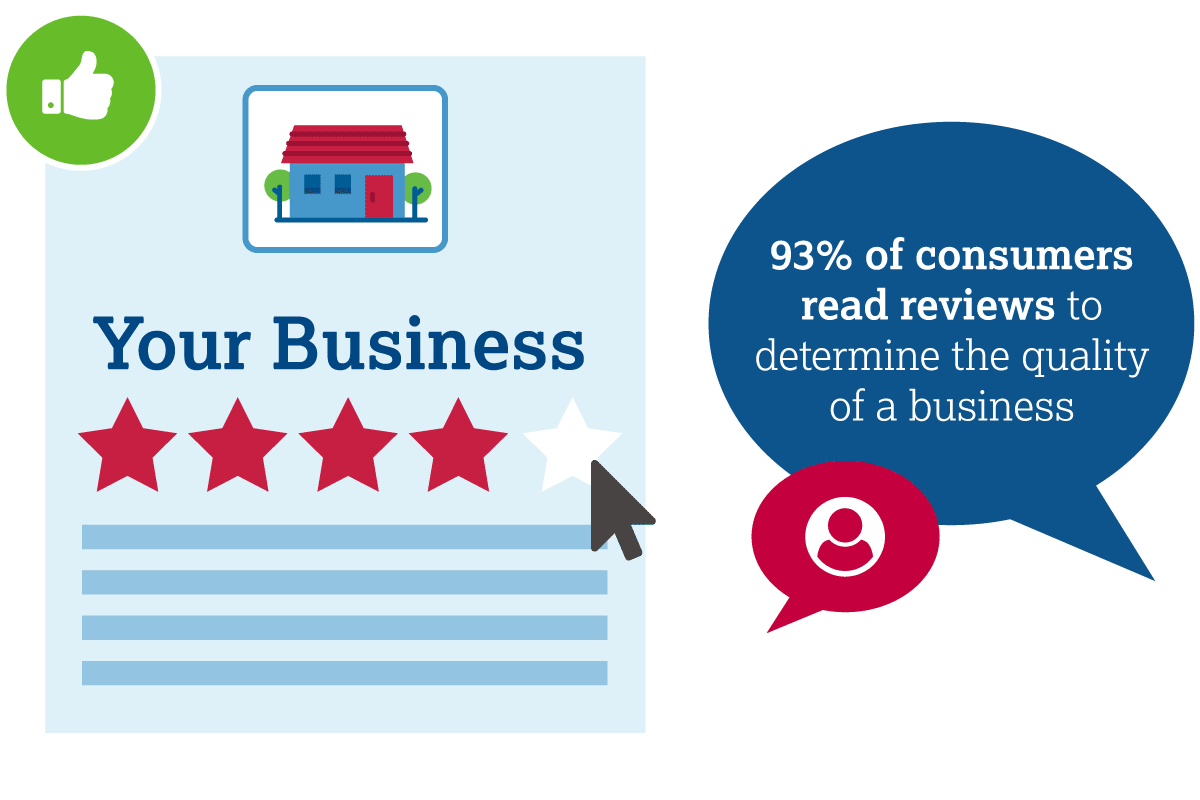 Online reviews are crucial for any business. According to a 2017 survey by BrightLocal, 93% of consumers read reviews to determine the quality of a business. Reviews raise your profile, generate trust, give you the opportunity to learn more about your customers, make one-on-one connections with them, and increase traffic to your business. Use these 8 methods to make online reviews work in your favor.
Claim your Google My Business listing. Consumer reviews are everywhere online, but the most popular review site is Google, with 64% of consumers saying they check reviews on Google before visiting a business. To maintain control of the Google reviews for your business, create or claim your Google My Business page, which will enable you to monitor and respond to your reviews. Reviews of your business will appear in Google and Google Maps search results, which will go a long way toward proving the credibility and quality of your business. Any replies you post to reviews will display directly below the review, labeled "response from the owner."
Monitor the major review sites. Google is the most popular place for reviews, but it's not the only one. Make sure you claim your business listing or create a business page on other popular review platforms like Yelp, TripAdvisor, and Facebook, as well as any sites that feature or list your products or services, like Amazon, Angie's List, the Better Business Bureau, Yellowpages, Manta, and your own website.
Improve your star rating. Having a good rating has several benefits, including establishing trust and increasing revenue. According to BrightLocal, 87% of consumers will only consider using businesses with at least a three-star rating, and analysis by Location3 found that businesses with an average 4.96 star rating had a conversion rate of 12.8% for AdWords ads, compared to a 10.4% conversion rate for businesses with an average of 3.31 stars.
Encourage people to review your business. The average consumer won't trust a business's star rating unless it has at least 34 reviews. Assuming you're already doing everything you can to create an excellent experience for your customers, improving your online reputation can be as simple as getting more people to post reviews about their experiences. So how do you get more reviews? Just ask—68% of consumers have left a review in answer to a direct request from a business. You can ask for reviews in person, via email, or with a prominent link on your website, but make sure you follow the rules for each review site. The only site where asking for a review is not OK is Yelp, though you can ask customers to check out your Yelp listing.
Respond to your reviews. Not only does responding to reviews improve your image and enable you to make real connections with customers, it can also improve your ratings and increase sales. A recent study by Harvard Business Review found that responding to reviews led to a 0.12 increase in star rating and 12% more reviews, and Location3 found that review response increased paid-search conversions as well: businesses with the highest response rate had an average conversion rate of 13.86%, compared to 10.42% for those with the lowest response rate.
Keep reviews current. It's not enough to have a lot of great reviews, they must be recent as well. More than 75% of consumers say they don't consider reviews more than 90 days old when deciding whether to patronize a business, and Google uses the frequency of reviews, as well as quantity and diversity, as a ranking factor.
Tread carefully with negative reviews. Bad reviews can directly affect your bottom line—according to ReviewTrackers, 94% of consumers say a negative online review has persuaded them to avoid a business. If someone leaves a legitimate bad review, the best thing you can do is respond politely and try to fix the issue. But if a negative review is irrelevant, inappropriate, or written by someone with a conflict of interest such as a competitor or current or former employee, you can ask the host site to take it down. It can be a prolonged process and there's no guarantee of success, so only go this route as a last resort. Use these links to get more information or report a review on Google, Facebook, Yelp, and TripAdvisor.
Use social proof on your website. Social proof, a psychological phenomenon where people take cues from others to decide on a course of action, has been an effective way of influencing behavior since long before the internet. On your website, you can encourage visitors to trust your company and try your products or services by showing positive feedback from satisfied customers in the form of testimonials or case studies.
---