4 Ways to Get Your Brand Noticed

with Awareness Marketing

posted on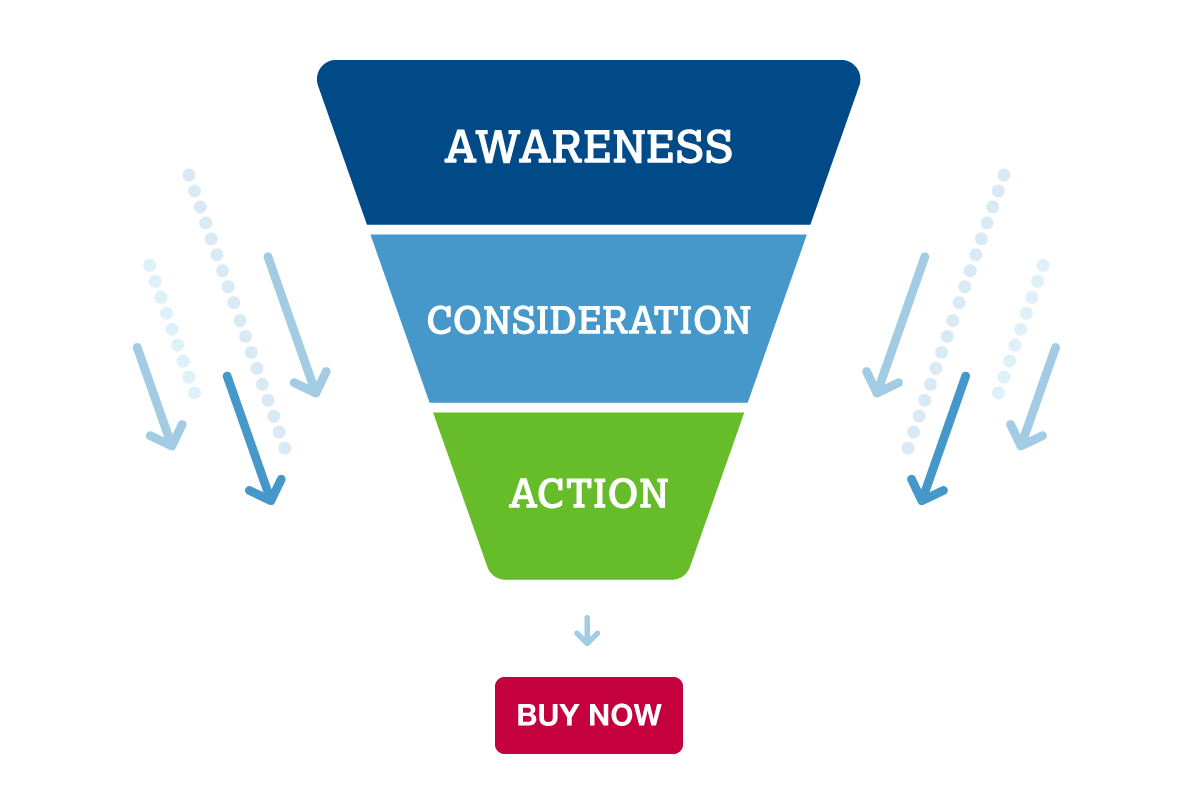 If a potential customer has never heard of your brand, company or product, chances are low they'll ever make a purchase from you. While a sale is the ultimate goal for any business, the first step is making potential customers aware of who you are and what you have to offer.
The Stages of the Buying Process
The "sales funnel" is often used as a visual way of describing the full range of the buying process, from the widest point of the funnel, when a potential customer becomes aware of a product or service, until they are "funneled" down through ever-narrower sections to the end of the funnel, the point of purchase.
Different industries and sales cycle types divide the funnel in various ways and label the stages with a variety of other terms, but the three most commonly used steps in the funnel are:
Awareness
Consideration
Action
While the "middle of the funnel" steps can include other buyer phases, including interest, evaluation, research, intent, decision, purchase, and retention; the first step, or top of the funnel, is always awareness.
Many marketers focus more on the consideration or action phases, which are more closely tied to the bottom line. But it's a mistake to skip over the awareness stage—before anyone can go down the funnel to become a customer or make a purchase, they must become aware of your company. That's where awareness marketing comes in.
Awareness marketing focuses not on conversions or sales, but on brand awareness—getting your brand on the radar with an audience that does not know it exists. It lays the groundwork for future conversions and sales by establishing brand recognition in potential customers. Here are 4 key ways to create brand awareness.
1. Develop Content for the Awareness Stage
Content for the top-of-the-funnel audience needs to make potential customers aware of your brand and start building a relationship with them.
People are more comfortable buying from companies they know and trust, so your top-of-the-funnel content should focus on telling potential customers who you are, what your company values are, and what benefits your products or services offer.
While it's OK to mention your products or services at this stage, this is not the time to apply sales pressure—focus on what your customers want, not what you want from them. Develop content that will make potential customers want to learn more about you and begin building a relationship with your brand, like the problems you can solve and the ways you can make their lives better.
Do a content audit of your website to determine whether you have enough content that is specifically targeted to the new audience you want to reach. Identify any gaps in the awareness stage by asking yourself the following questions:
Do you have content that describes your purpose as a company?
Do you a have a strong About page that explains who you are and what you do?
Do you have blog posts, case studies, an FAQ section, explainer videos, educational webinars, or customer testimonials on your website that show thought leadership in your industry and demonstrate how you've helped customers solve their problems?
2. Improve Your SEO by Incorporating Awareness-Related Keywords
When potential customers are trying to solve a problem, a search engine will likely be their first stop.
They may have a problem but not know whether a solution is available, or they might be looking for the type of product or service you provide but have no knowledge about your brand. You can increase your chances of appearing high in the results for those searches by answering core questions in your content.
Come up with a list of keywords a potential customer may enter into a search engine—include everything from single words to full sentences phrased in natural, conversational language.
Don't forget to include your brand name and those of your competitors in some keywords, to help you reach those who have at least a limited knowledge of your brand as well as those who are more familiar with other brands in your niche.
Once you have a comprehensive list of keywords, create quality content around each one that provides an overview of the target keyword or answers the question being searched.
3. Establish a Strong Social Media Presence
Social media has become an important part of all stages of the sales funnel, and awareness is no exception. Having a strong, branded social media presence helps you attract new customers and prove you are an established, reputable company.
You don't have to be everywhere—choose the social media channel(s) that make the most sense for your business and post regular content that is interesting and relevant to your target audience. Consider creating a custom hashtag to increase your visibility and help people find you more easily.
In addition to updates about your company, special offers, and industry news, keep your social media pages fresh and engaging with different types of content, like quizzes, infographics, polls, and user-generated content.
4. Target Specific Markets
Are you a locally based business, like a retail store or a company that only serves a specific geographic location? Create brand awareness among potential customers in your area by optimizing your website for local search, claiming your Google My Business and other business listings, getting your business included in local business listings, and adding locally focused content to your site.
To raise your brand's profile in your local community, get involved in local events as a participant or sponsor, align yourself with a local charity, advertise special offers or deals for local customers, and make sure you have prominent, attractive signage.
If your business is not limited by location but you want to target potential customers with a specific demographic, in a certain industry, or with specific interests, find and join groups on your chosen social media channels. Once you're in the group, become a valuable member by sharing useful content, posting thoughtful comments, and offering your expertise to group members by answering questions or providing guidance.
---