10 Ways to
Improve Your Website Performance
Updated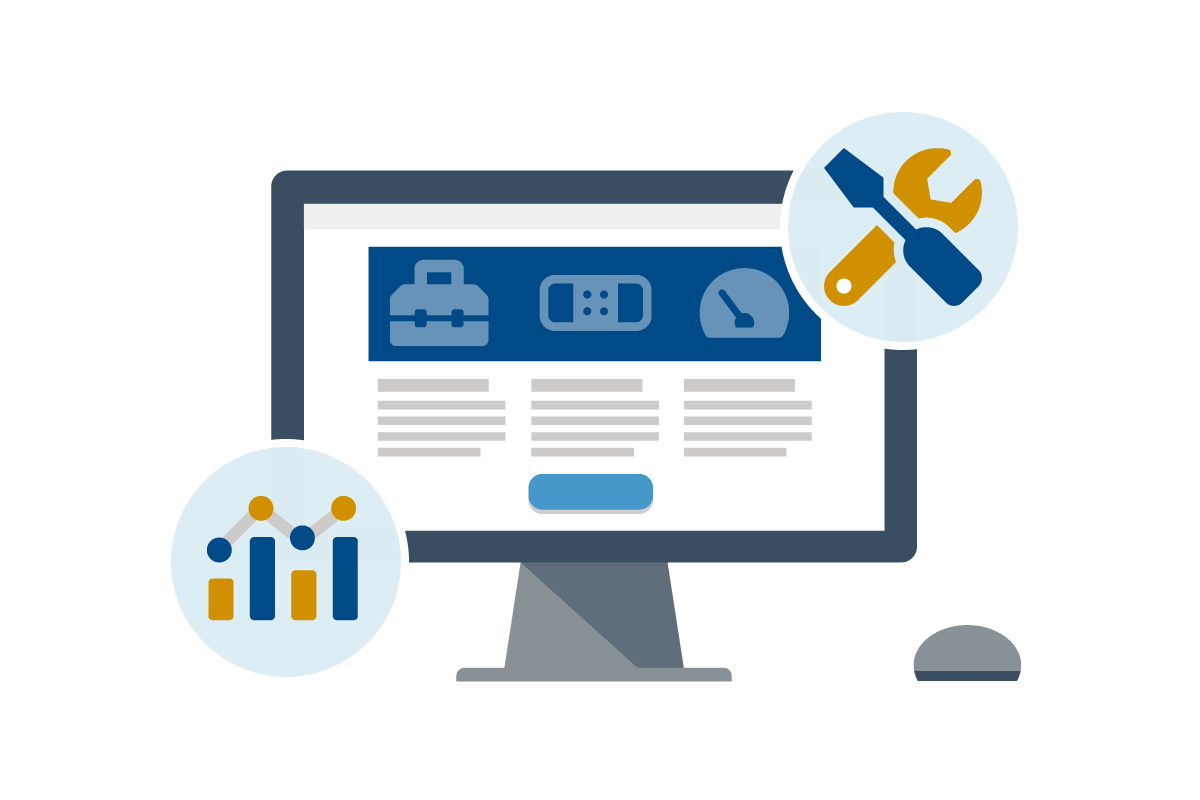 With more people online than ever before, your website is the best way to get new traffic, nurture relationships with your existing customers, and promote your brand. But what if your website isn't performing up to expectations? Check this list of possible problems and how to fix them so that you can get your website back on track.
Are your website visitors unimpressed?
First impressions are important, and if your website is not making a good one, you may be missing out on valuable opportunities to boost website traffic, attract new customers, and increase conversions. To make sure your website is as welcoming as possible, review it as if you were a new visitor, or, even better, recruit some volunteers who are unfamiliar with the site to navigate through it and provide feedback on their experience. For more information, see our blog post Is Your Website Making the Right First Impression?
Does your website have issues with speed, security, or functionality?
If your site is slow to load, throws errors, does not use SSL encryption for improved security, has broken links, or does not have a responsive design for mobile users, your site visitors may get frustrated and go elsewhere. Review your site to make sure pages load quickly (ideally in 2 seconds or less), and that the site operates smoothly, with no crashes, errors, or broken links. If you have not upgraded to HTTPS/SSL, you should strongly consider doing so, as it is a ranking factor for Google and has become the standard for all websites. For more information, see our blog post How to Improve Your Website Speed.
Are you targeting the right keywords?
Google uses the keywords on your website to decide whether to display it as a search result, so if you haven't optimized your site for the right keywords and key phrases you could be missing out on valuable organic search traffic. Identify your target audience, do keyword research to determine what words and phrases they may be searching for, and learn more about the search intent of your target audience. Use the information you've gathered to optimize your site for the appropriate keywords. For more information, see our blog post How Important are Keywords for SEO?
Is your website providing a good user experience?
Website user experience, or UX, refers to the experience users have when they interact with your website. A website with a good UX gives site visitors an easy, intuitive, positive experience that enables them to easily find what they're looking for and accomplish their goals. To see if your website UX is up to par, ask yourself these questions: Is the structure and navigation of the site easy to understand and use? Is the content readable, skimmable, and engaging? Does the site cater to mobile users? Is the design clean, aesthetically pleasing, and geared toward conversions? Perform a thorough UX review of your site and make adjustments as needed. For more information, see our blog post UX vs UI: What's the Difference in Web Design?
Is your content relevant, compelling, and high-quality?
Content is one of the most important ranking factors for Google, which looks at your website content to determine the overall quality of your site and whether it provides value to visitors. If your site has content that is poorly written or not relevant to your target audience, you don't have much chance of appearing high in search results and getting quality website traffic. To improve your website's performance, make sure it has a wealth of well-written, engaging, valuable, and frequently updated content. For more information, see our blog post How to Write Website Content That Ranks, According to Google.
Is your site optimized for local, voice, and image search?
In order to maximize the number of visitors who come to your site, you have to make sure you are appearing in searches—not just the usual text searches based on keywords, but also local or "near me" searches, voice searches that use voice commands given to virtual assistants like Siri and Alexa rather than entering text into a search box, and image searches, where searchers are looking for visual images rather than text search results. To ensure your site isn't missing out on traffic, optimize it for all three search types. For more information, see our blog post Is Your Website Optimized for These 3 Key Search Types?
Are you using awareness marketing to increase the visibility of your brand?
Having a new website is a great representation of your brand, but if no one sees it, it won't do you much good. If your new website is not performing up to your expectations, work on increasing traffic to the site by making potential customers aware of who you are and what you can offer them. Do a content audit of your site to make sure you have valuable content for each stage of the sales funnel, use outreach marketing to make connections with more people in your target audience, and establish a strong social media presence. For more information, see our blog post 4 Ways to Get Your Brand Noticed with Awareness Marketing.
Are you active on the right social media channels?
Your company probably has a profile on at least one social media platform, but are you sure you've chosen the right one? To increase your brand awareness and increase traffic to your site, review the demographics and usage of each social media platform and select the ones that most closely align with your business goals. Once you've established a presence on your chosen channels, make sure you create great social media content and determine the optimum posting frequency. For more information, see our blog post Which Social Media Channels Should Your Business Be Using?
Is your website optimized for conversions?
If your website is getting good traffic levels but not delivering the leads, conversions, or sales you expect, you may need to work on optimizing your site for conversions. Motivate your site visitors to take immediate action with intuitive navigation, design that supports a clear path to a transaction or conversion, and strong calls-to-action. For more information, see our blog post Boost Your Online Conversions with These 10 Web Design Tips.
Are you monitoring the right metrics?
Website analytics can tell you a lot about your website's performance, including how it's succeeding and where it's falling short. If your website is not delivering the results you want, identify the website metrics that most closely align with your goals, set benchmarks, and closely monitor those metrics over time to see where there is room for improvement. For more information, see our blog post 9 Web Analytics Metrics You Need to Know.
---