The Top 11 Reasons

People Leave Your Website (and How to Fix Them)

Updated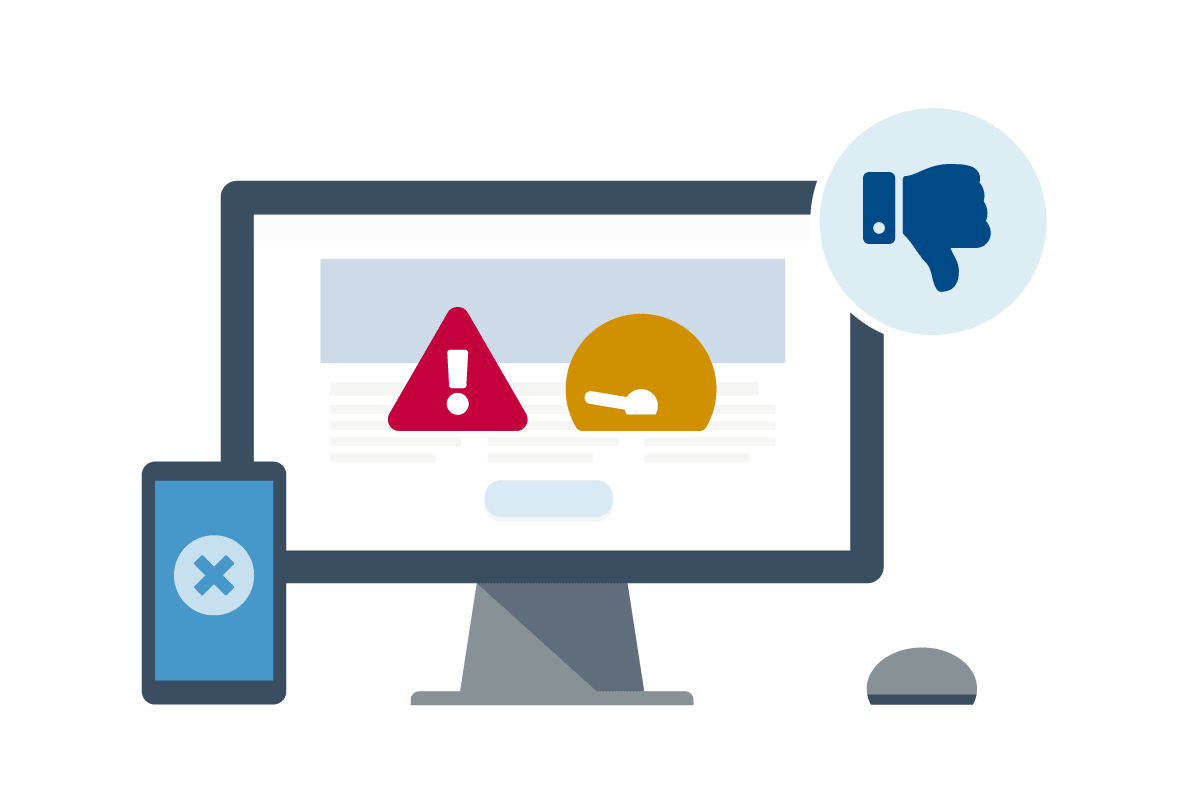 When you have a company website, you want people to visit your site and stay there as long as it takes for them to accomplish their goal, which could include making a purchase, signing up for a newsletter, filling out a form, or scheduling a demo.
Unfortunately, a lot of people will visit your website only to "bounce" right back off. These are some of the most common reasons why someone might leave your site and how to fix them.
Problem #1: Your site doesn't grab the user's attention.
Solution: Studies show that site visitors need only .05 seconds to form an opinion of your website and decide whether to stay or go, so make sure your site is making a strong first impression with engaging images, attractive design, and compelling messaging.
Problem #2: You aren't telling visitors who you are.
Solution: A surprising number of websites don't clearly display the company name and logo or provide a description of what the company actually does, which can frustrate visitors and cause them to leave the site. Make sure your site has a clear "hero" or welcome message that explains who you are, what you do, and what you offer site visitors.
Problem #3: Your site is too slow.
Solution: Use a website speed checker to measure your site's speed performance and get recommendations for improvements. Make sure the pages on your site load quickly (ideally in 2 seconds or less), and that the site operates smoothly, with no crashes, errors, or broken links.
Problem #4: Your site looks outdated.
Solution: According to a survey by Blue Fountain Media, 81% of internet users think less of a business if the website is not updated. If it has been more than a few years since your site was updated, it could be time for a website redesign.
Problem #5: Your site is confusing to navigate.
Solution: Review the navigation of your website to ensure it's logically organized and simple to understand and use, and that it makes it easy for visitors to browse through the site, find what they're looking for, and fulfill their goals.
Problem #6: Your site isn't mobile friendly.
Solution: Almost 60% of site visits come from mobile devices, so if your website isn't mobile-friendly, your mobile users are likely to get frustrated and leave the site. Make sure your site offers a good user experience for mobile users, including a responsive design, easily clickable buttons, a mobile-friendly navigation, smaller file sizes and simplified forms.
Problem #7: Site visitors get a "not secure" warning.
Solution: In a UK study, 64% of users said they would leave a site instantly if they saw a "not secure" warning. To avoid scaring away customers and to make sure that any information your users enter on your site remains secure, upgrade your website to HTTPS.
Problem #8: Your website content is difficult to read.
Solution: Use whitespace, a legible font, color contrast, heading and subheadings, and other design best-practices to create content that is attractive, easy to skim, and delivers a great user experience.
Problem #9: Your website has annoying ads.
Solution: Digital advertising is a fact of life and most website users expect to see some type of ads, just make sure ads aren't hurting the user experience. In a survey by Hubspot, 73% of respondents said they dislike pop-up ads, 70% disliked mobile ads, and 57% disliked ads that play before content will load.
Problem #10: Key information is hard to find.
Solution: When someone visits your site they may be looking for more information on your company or for a way to contact you. Don't bury the information they need; have an About page in the top navigation that includes information on your company and leadership, and always include an address, phone number and email or link to a contact form in a place where it can be easily found, such as the footer.
Problem #11: You don't deliver what you promise.
Solution: If you promote a deal or make an offer, whether it's in an email, a PPC ad, or a social post, make sure you follow through when the user clicks the link. For every link, create a custom landing page that fulfills the offer. If you make an offer just to get someone to your site, then bait-and-switch or add exceptions that make the offer invalid, your customers will feel tricked.
---